Five Ohio State players were selected in the NFL draft's first round, which ought to make coach Urban Meyer very proud. But for at least one moment last night, Urbz was left by his lonesome.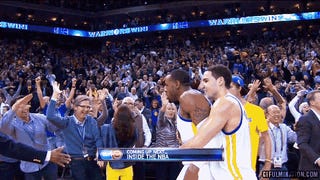 These three dudes were right there after Andre Iguodala's buzzer-beater to beat the Thunder, and they were right there to give Iguodala a giant high five after it happened. Look at their faces. Look at the way two of them follow through after Iguodala turns and walks away. Look at how the dude to the far left just…

As always, we salute the great art of the high five. Sure, it might seem awkward, and it might not start off well ... but you have to follow it through.