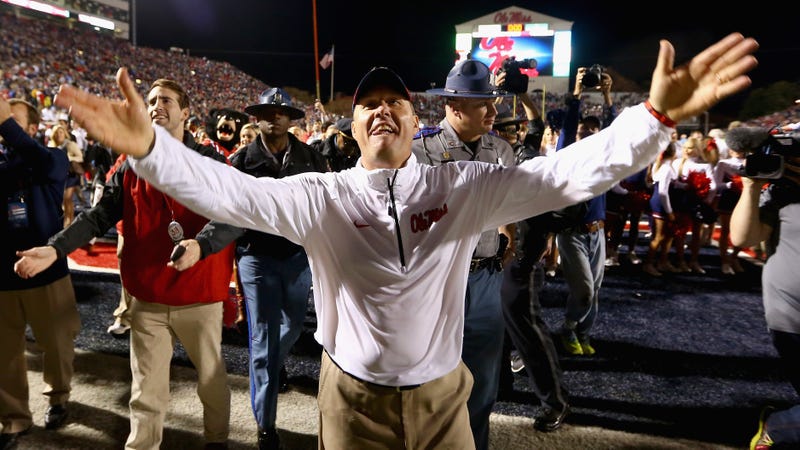 After a sudden explosion, the noise from the Ole Miss scandal continues to reverberate; it's just doing so a bit more slowly now. Reports from the past week have borne an array of interesting developments, revealing Ole Miss's godawful legal and press strategy and shining a sliver of light on some disturbing rumors…
Hugh Freeze quit his job as head coach at Ole Miss tonight for reasons nobody wanted to describe other than saying they involved "moral turpitude." Part of the narrative, though, at least for tonight, includes Freeze's phone records, which show a one-minute call to an escort service. According to a report by Yahoo,…
Former Ole Miss head coach Houston Nutt filed a lawsuit against the school Wednesday, claiming it broke the terms of his 2011 severance agreement when football officials attempted to pin the majority of the Rebels' recent NCAA violations on the 59-year-old CBS analyst.
Coming soon to a TV probably not near you: "Gridiron U," a "made for television authentic show" about Houston Nutt's Mississippi team, which isn't, as far as I know, Gridiron U. This was supposed to be reality, right? [PR Newswire]
We're not sure the true historic nature of what's going on at the University of Arkansas is being adequately appreciated. Basically, a bunch of ticked-off message board fans are doing everything they can to take down the athletic department of their university ... and they're doing a damned good job of it.
So you know the crazed Razorbacks message board fan who went through the impressive measure of FOIAing coach Houston Nutt's cellphone records, discovering that he had been text-messaging a local female reporter? Well, his quest to rid Arkansas of Nutt is not over; as you can see in this video, he's now accosting Nutt…
So you know last week, when all that information about Arkansas coach Houston Nutt came out thanks to a resourceful fan? Well, even though national media has been strangely loathe to report on it — "Only WE can file federal FOIAs!" — the news has apparently made it back to the Nutt home, because Diana Nutt, the…