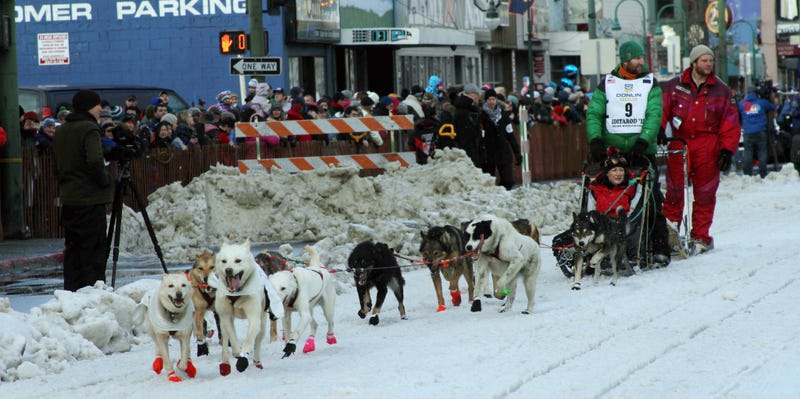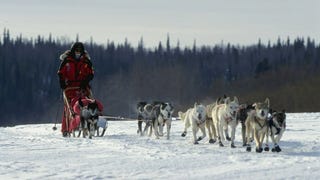 Earlier this month, in the middle of the 1000-mile Iditarod sled dog race across Alaska, a five-year-old husky mix named Dorado was left behind at a checkpoint. His musher, rookie Paige Drobny, decided he was suffering from sore muscles, and dropped him at Unalakleet, an Inupiat village on the Bering Sea. There was…
The Iditarod kicked off over the weekend, and it'll be more than a week before even the best mushers complete the race. That 1000-mile trek through the Alaskan wilds is tough enough, even without having to take bathroom breaks at rest-stop Hardees or pee off the back of your sled, giggling as the stream crystalizes…
Look at that face. What dog could resist it? That's General Thelma—an "all star" runner in the Iditarod—and she has been demoted from her lead position because she is in heat. It's spring and love the primal instinct to procreate is in the air, even in frigid Alaska.
We don't get much Iditarod coverage around these parts, so thank you to tipster Brandon for sending this along. Anna and Kristy Berington are Wisconsin natives living in Alaska. Above all else, they are trailblazing dog racers. As you read this they are probably mushing their way through the Alaskan wilderness,…
Fans, fellow mushers, and the "Iditarod Air Force" are looking for three-year-old Whitey, a sled dog who went missing from his team. He's probably just holding out for a new contract. [Iditarodblogs.com]
Move over, The Blind Side, the story of Newton Marshall is here to make your mother cry. Newton, an adversity overcoming Jamaican dogsled racer, begins the Iditarod today. But how good will the movie adaptation be?
In a first, they'll be testing Iditarod participants (mushers) for drugs and alcohol. This is useless until a dependable test for Purina Beneful is developed. [Fairbanks Daily News-Miner]
Sorry to barge in on your holiday weekend — for God's sake, put on some pants — but I just got back from he movies and found this great video in a basket on my doorstep.
It's the one we've all been waiting for
, a gift from the cold, desolate North: A sportscast featuring presumptive Republican Vice Presidential…
After viewing trailers for the new movie Eight Below, we were led to believe that there is nothing stronger than the bond between a man and his sled dogs. Yeah, that's what they want you to think.
We don't know if we have readers in Alaska, but if we do, we are honestly sorry for you: We had no idea it got this cold up there.