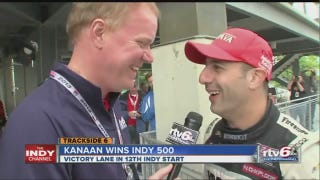 Grand Marshal Anderson Cooper and the Indianapolis 500 Festival Princesses drew much attention on the red carpet outside the Snake Pit Ball. Jim Nabors, REO Speedwagon and the Chinese brought happiness to those attending the IPL 500 Festival Parade. Plus, there's a fancy car race today.
Click to view File under: #holyshit. In the 1981 Indianapolis 500, Rick Mears took a pitstop and his car was sprayed with fuel that ignited invisibly after making contact with the engine. Mears and several members of his crew were immediately (and invisibly) lit up.
Scott Dixon, seen here winning an unrelated reace, is your 2008 Indianapolis 500 winner. This makes it 39 years that the prestigious Brickyard race hasn't been won by either a woman or an Andretti. The New Zealander won his first 500 the year after he lost the IRL championship on the last lap of the last race.…
Sam Hornish Jr., who pulled out too soon a little earlier in the race, is now free to pop off anytime he would like. He's your Indy 500 Champion, and for some reason, poured a bottle of milk all over himself immediately afterwards. I understand that it's a tradition, but I think it's one that's a little weird. Does…
Our pals at Jalopnik are in the corporate hospitality suite, watching the race, and... instant messenging each other. That's not a sentence I thought I'd ever be typing. Here's a snippet:
In another of their festive Indy 500 events, Jalopnik is having a little IndyCar-designing contest. Design a fancy IndyCar for Deadspin and/or Jalopnik, and you could become a hero to millions.
It's Indy 500 weekend, as I'm sure you're aware. This is a huge event, and I know that because Cold Pizza sent Woody Paige and Skip Bayless there to do the show this week. Not to be outdone, though, our pals at Jalopnik are also live at the speedway. We're going to be leaning heavily on them for coverage of the race,…
It's Memorial Day weekend, so that means it's time for the Indianapolis 500, which isn't as cool as it used to be, though it helps to have attractive women racing. Growing up where we did, the Indy 500 was pretty much the most awesomest thing on earth when we were a kid, so we're glad to see it coming back.