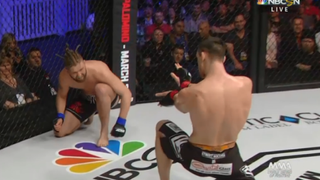 There are so, so few opportunities to throw a hadouken unironically. "During an MMA fight" is one of the preciously rare moments to channel your inner Ryu and feel like a total badass—as long as you're actually in the fight. Shane Campbell saw such a window during a recent bout with Derek Boyle.
Venezuelan Milka Duno has signed on to run a full IndyCar season. Danica really has been a trailblazer. If Duno does well, maybe she can fail in NASCAR too! [Indy Star]
If the concept of Ohio depresses you, at least the cities of Cleveland, Cincinnati, Youngstown, and Toledo all lie on or near the state border, opening up hopes and promises of other states. But Mid-Ohio? That's a lot of driving to exit the state, and driving in rural Ohio is a good way to lose one's mind. Racing in…
It feels like it took longer than Phil Mickelson's first major, but the petite open-wheeled racer finally reached the checkered flag before a bunch of chauvinistic war-starting toilet-seat-leaving-up booze-crazed horndogs in Japan this weekend, becoming the first female to win a major auto racing event.
Paul Dana, 30, died just before noon today after a crash at a pre-race practice for today's IRL IndyCar Series race. Another car had spun and hit a wall in front of him, and Dana slammed into it at full speed, over 216 miles per hour. The other driver, Ed Carpenter, is awake and alert at the hospital, and looks to be…