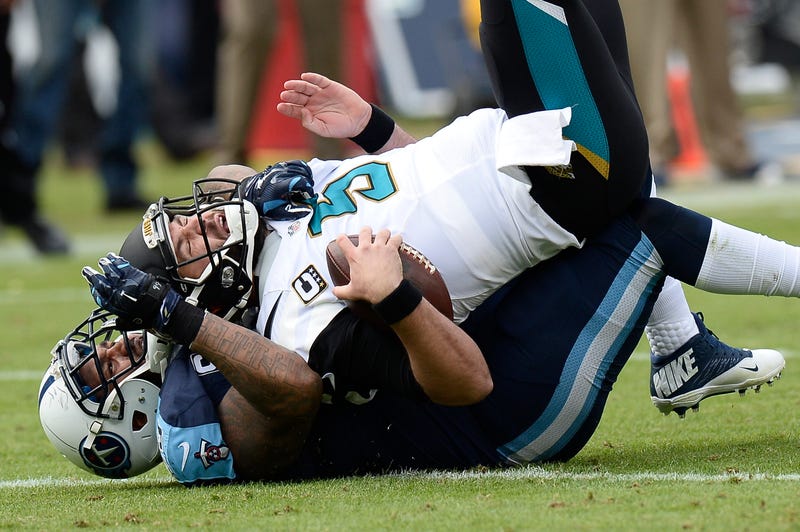 The national football schedule hasn't even started and already the Jaguars are in the news. It says here that QB Blake Bortles is "sick and tired of being below average."
Upon the occasion of a man's forty eighth and final loss:
Highlights of today's contest between the Jacksonville Jaguars and the Kansas City Chiefs:
A Brazilian soldier shot a jaguar after an Olympic torch ceremony Monday in Manaus, Amazonas, after the animal got loose and approached him, according to a report from Reuters.
Over at Advanced NFL Stats, Brian Burke has put together a great visualization plotting the offensive and defensive performance of the league's 32 teams. It's nothing too complicated—basically a NYMag Approval Matrix for football—but it reveals a lot about the state of the NFL through Week 5.
The murmurs began last week, before the Broncos put up 51 points against the Cowboys and the Jaguars lost second-overall pick Luke Joeckel to injury. And when the dust of Week 5 had settled, sure enough, the betting line for Jaguars at Broncos was set at 28 points, which is a lot.
On Friday, ESPN reported that the Jacksonville receiving corps was so decimated by injuries, Justin Blackmonlessness and just being the Jaguars, that the team was forced to use ball boys and equipment assistants as scout-team receivers. Fox picked up on the report and tweeted out a link to a story of its own. The…
Here's Pete Prisco, odious football columnist and wearer of cargo jorts weird shorts, getting into a little tête-à-tête with some Jaguars fans at this month's "Sign Tim Tebow" rally. Prisco, who is staunchly anti-Tebow, can be seen giving his impression of Tebow's style of play. Nice moves, Pete.