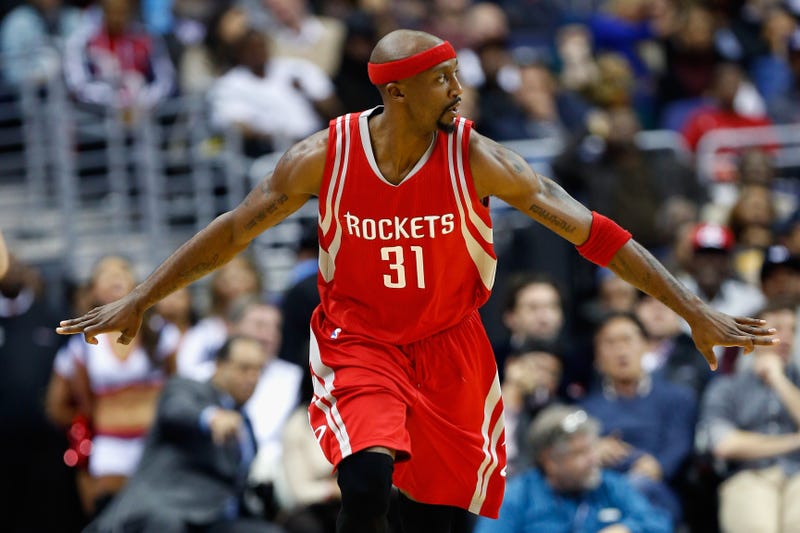 Rockets guard Jason Terry got into an altercation with a fan during the third quarter of tonight's game against the Sacramento Kings. Terry's momentum carried him into the crowd after attempting to defend a Ben McLemore dunk, and he put his hands out to brace himself. The fan he touched in doing so, who turns out to…
At the end of the first half, Boston owned a 54-35 lead over the Knicks. With 1:18 left in the fourth, Raymond Felton gave the Knicks their first lead of the day at 84-82 on a pull-up jumper just inside the key. Kevin Garnett immediately tied the game and after a couple misses from Carmelo and another one from Paul…
ESPN Dallas has a tale of infighting, or something, that will send all you Dallas-lovers to the bookies. About Jason Terry, Dirk says, "They keep sticking him [James] on Jet in the fourth quarters and he's been doing a good job. Jet hasn't really been a crunch-time, clutch player for us the way we need him to."
The Lakers and the Mavs kept things interesting in one of the most under-scheduled nights of the NBA season last night: five players were ejected after a shoving match that began with Jason Terry and Steve Blake. The refs sent out two players from each team (Dallas's Terry and Brendan Haywood and Los Angeles's Blake…
Before we talk about last night's Clippers' win over the Suns, can we just say how disappointed we were that there wasn't a single incident of a grown man wounding the genitals of another grown man?