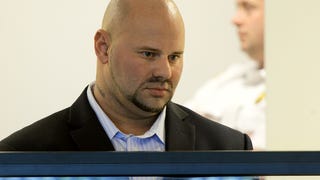 Jared Remy, in Middlesex County Jail awaiting trial for the August 15, 2013 murder of his girlfriend, Jennifer Martel, will face new charges connected to an altercation with a fellow inmate. The should-be recidivist, and son of longtime Red Sox broadcaster Jerry Remy, is now charged with assault and battery with a…
Jared Remy should never have been allowed near Jennifer Martel, the girlfriend and mother of his child, who the son of the longtime Red Sox broadcaster is accused of stabbing to death last summer. He should have been locked up in prison for any of his dozens of previous run-ins with the law, including allegations of…
This is a really fucking weird column, the thesis of which is that Jerry Remy shouldn't return to the broadcast booth because his voice will remind viewers of how his son allegedly murdered his girlfriend.
After Jared Remy was arrested Tuesday and charged with beating his girlfriend, his mother contacted the girlfriend and begged her not to extend the emergency temporary restraining order she had been granted because it would "ruin his life," a neighbor who asked to remain anonymous told us.
Jared Remy, a former Red Sox security staffer and the son of NESN commentator Jerry Remy, has been arrested in connection with the stabbing death of his girlfriend and will be arraigned for murder later today.
NESN's Red Sox broadcast team of Don Orsillo and Jerry Remy show up often in these parts, usually due to their inability to hold themselves together due to some wacky fans in the stands. Today's meltdown was self-imposed, as a toy lightsaber that found its way to the broadcast booth (owing to yet another of those…
Eckersley, who's filling in for Jerry Remy on Boston's television network, has appealed to Sox fans by doing what they do best. So last night, after Johan Santana beaned Kevin Youkilis with a fastball, Eckersley dictated Youk's response ("Shit!"), and he forgot to hit the bleep button on himself. How can you fault…
One of Red Sox Nation's most popular figures is paying for years of smoking. He issued a statement about his condition, we wish him all the best.[Sawxheads.com]