Chicago Bulls scoring machine Jimmy Butler left tonight's game in Denver against the Nuggets after suffering a sprained knee late in the first half.
Missing Pau Gasol and Derrick Rose, the Bulls spent most of Thursday night's game against the 76ers looking like they'd never played basketball with each other before. They were down by as many as 24 points in the second quarter, and had 23 turnovers for the game. Here is Joakim Noah giving a visual representation of…
The Bulls went up to Toronto without Derrick Rose today in need of some momentum. Chicago appears to have fairly structural problems with their chemistry and offense, but they still have the talent to mount a decent challenge in the East. There's a glut of kinda-sorta good teams in the East and, as flawed as the Bulls…
Maybe this was the play design all along, or maybe Pau Gasol just saw an opening and lofted the ball up. Either way this play should've been dead in the water, with Jimmy Butler blanketed by Paul George and unable to grab the ball and dunk it home. Instead, Butler deftly tapped the ball into the hoop, and the Bulls…
Mason Plumlee put a shoulder into Jimmy Butler, and Butler stuck out his legs to trip Plumlee, but it was only Butler who got a technical. Now Butler wants Plumlee to pay his fine, and he knows exactly where to send the invoice.
Here's a profile of Jimmy Butler, in which you'll learn about such things as his bromance with Mark Wahlberg and the time he paid a friend $5,000 to drink syrup.
Once again, Jimmy Kimmel rounded up an assorted cast of NBA players to read mean things about themselves. Highlights include Draymond Green, Zach Randolph, and Steph Curry, who unintentionally made fun of his coach Steve Kerr.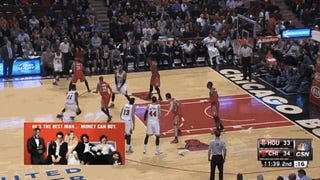 We already gushed over Jimmy Butler last week so no need to repeat it, but man is he fun to watch. Here he is throwing down a backdoor cut (down the middle of the court) alley-oop, just minutes after he absolutely stuffed James Harden to the ground on an attempted end-of-quarter buzzer beater.
Wizards big man Nene has been suspended for Game 4 against the Bulls after this altercation with Jimmy Butler. Early in the fourth quarter of the Bulls win over Washington, Nene head-butted Butler, then grabbed him around the head and neck, and the two had to be pulled apart by referees and teammates. Nene was…
Chicago's Jimmy Butler dove for a loose ball and saved it for his team, but at the expense of falling into the stands. The other nine players ran down the court while Butler, trapped by a row of fans in seats, ran through the aisle and jumped over an empty seat to stop the offensive 4-on-5. The little kid in the front…
This picture of Bulls forward Jimmy Butler has been making its way around the internet today. That's a pretty snazzy shirt! Unfortunately, Butler is afraid that not everyone will find it so snazzy, so he took to Twitter to apologize and clarify his stance on pussy, money, and weed.