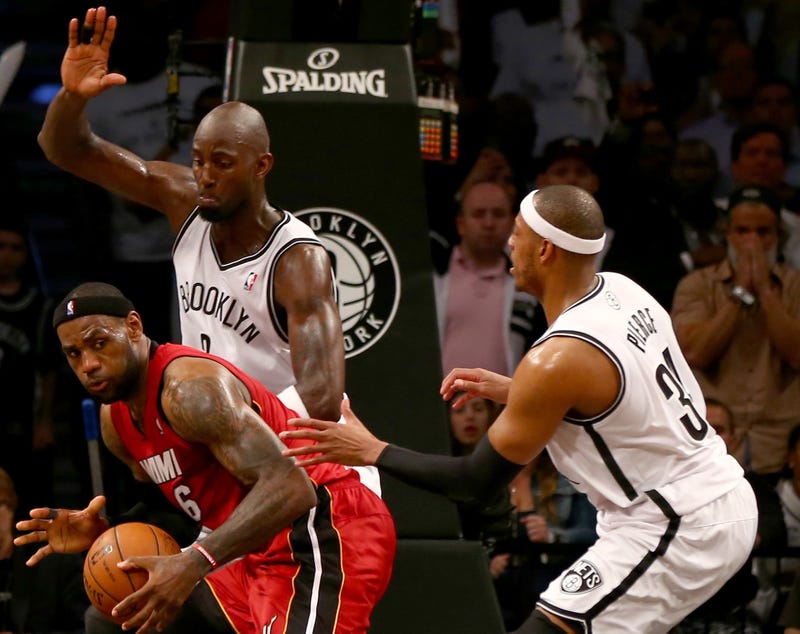 Last night's Game 4 between the Heat and Nets came down to a three-play sequence that was laced with a fun bit of irony. With just under two minutes to go, game tied at 94, the Heat—the team paced throughout the night by its star cannon-balling his way to 49 points—rode out the game's crisis point with a set play that…
As we noted a couple of times (Nate Robinson scuffling! Nate Robinson banking in a 20-foot runner!) this afternoon the Bulls' 142-134 triple overtime win over the Nets was straight-up bananagrams and what on earth is happening in this AP photo.
There are two types of great buzzer-beaters. The first kind is the end result of a well-executed inbounds play, one that involves screens and misdirection and ends with a shooter getting open just long enough to rise up for a clean shot at the rim. (See: LeBron James saving Cleveland's season in Game 2 of the…
I watched this game while sort of glancing at the television and then looking away again, so when I first heard this call, from the YES Network's Ian Eagle, I thought it was pretty irredeemably dweeby, regardless of the quality of the source material. Now that I've watched again and seen that Jerry Seinfeld was in…
Paul Pierce is looking old these days. On Sunday, Jameer Nelson victimized him with a nasty crossover, leaving Pierce flat on his back. Last night, Pierce ended up looking helpless and silly yet again after being brought to his hands and knees by a Joe Johnson crossover. This instance of ankle breakage is especially…
Every morning, the fine folks at Sports Radio Interviews sift through the a.m. drive-time chatter to bring you the best interviews with coaches, players, and personalities across the sports landscape. Today: Avery Johnson says Brooklyn is "top three or four" in the East right now.
The Nets have spent the last 48 hours either assembling a superteam that will contend immediately for a championship, or ruining their first half-decade in Brooklyn. Since last night, the team finalized a deal with the Atlanta Hawks to send just under a third of their roster south in order to acquire Joe Johnson, the…
According to a complaint filed by Pak's Jewelers in Milwaukee, Joe Johnson of the Atlanta Hawks placed a $74,389.20 order for a variety of bejeweling accessories but "never paid any portion of the monetary balance."