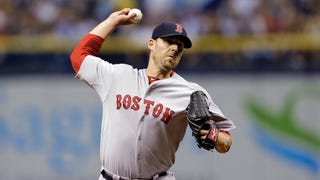 The Red Sox are apparently on some sort of accelerated turn-of-the-century-Marlins plan, where they win, bottom out, and rebuild, but it only takes them a year to go from peak to trough and back again. After landing Yoenis Cespedes earlier today, Boston has traded starter John Lackey to St. Louis for utilityman…
For whatever reason, David Ortiz hates it when you bring up that he tested positive for performance-enhancing drugs in 2003 (a fact confirmed by the union). The latest target of his ire: MLB Network hosts who declared he has received a "free pass" for his transgression.
A nationally televised game that saw Tampa Bay overcome a 6-0 deficit, Boston take—and blow—a two-run 10th-inning lead, and a final out that wouldn't come until after midnight, and still all anyone could talk about was John Lackey plunking Matt Joyce. Here's a bold statement: Boston-Tampa Bay is the fiercest AL East…
The Red Sox lost a baseball game last night, dropping their record to three games below .500, and you know what that means, don't you? It's time for some dumb columnist to turn into Carrie Nation and throw some shit at the wall. CSN New England's Joe Haggerty did just that when he published this article, which might…
Bobby Valentine has outlawed alcohol in the Boston Red Sox clubhouse. He has also banned alcohol on flights that come at the end of a road trip. Although Valentine did not discuss the rule with the team prior to enacting it, David Ortiz is on board and provided a much-needed voice of reason.
Lester tells the Boston Globe (though not Bob Hohler, who wrote this) that starting pitchers on their off-days were the only ones drinking during Red Sox games. "There's a perception out there that we were up there getting hammered and that wasn't the case... Most of the times it was one beer, a beer. It was like…
It took two weeks, but the Boston Globe has produced the definitive grisly autopsy of the 2011 Boston Red Sox meltdown, and it's lurid, all right. (You'll recall that the team collapsed in epic fashion and missed the playoffs.) The Globe's story is full of drink and drugs and player grousing, but the story's existence…
It may or may not be true that some players simply can't cut it in Boston. But it's an absolute truism that everyone in Boston wants it to be true. In a vacuum, the obvious question is "did John Lackey's personal issues, including his marital problems and wife's illness, contribute to a sub-par season?" Instead, the…
Lackey myseriously scolded the media in the locker room after the Red Sox won their 14-inning showdown with the Yankees: "Let me tell you the truth, [t]hirty minutes before the game I got a text message on my cell phone from one of you, somebody in the media, talking about personal stuff. I shouldn't even have to be…
Krista Lackey has already scored her first mention in the Boston gossip pages after being spotted at a fancy restaurant—where one of Southie's finest puked on her fur coat. Pissah. [Boston Herald, via 3:10toJoba]