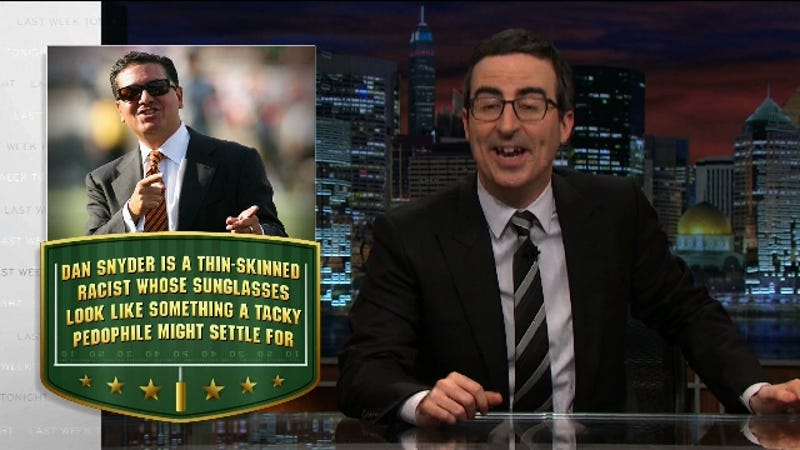 We noted earlier this week a comically vulgar legal defense levied by NFL owner Dan Snyder to retain the "Washington Redskins" trademark, and HBO comic John Oliver covered the topic on his Last Week Tonight program. The organization's point becomes even more clear when spoken out loud; Dan Snyder wants to clearly…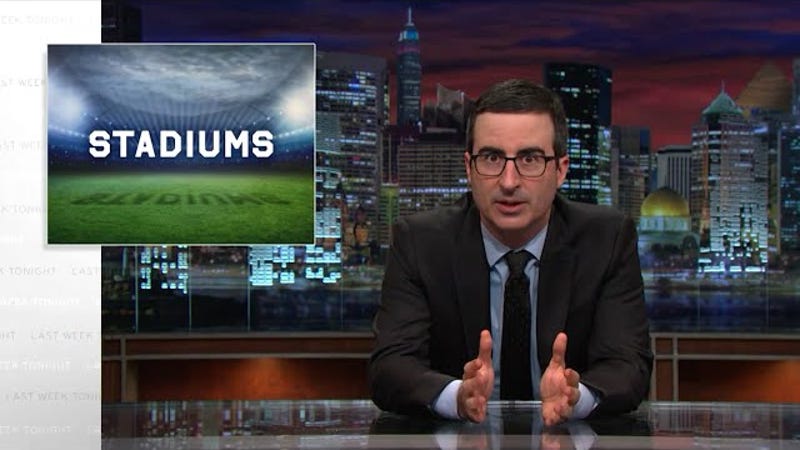 If you frequent this website, you know the public financing of stadium construction is our bête noire—a massive, ongoing, inexplicable scandal that's more likely than not to be taking money out of your and your community's pockets as we speak. John Oliver's takedown of stadium financing on Last Week Tonight hits many…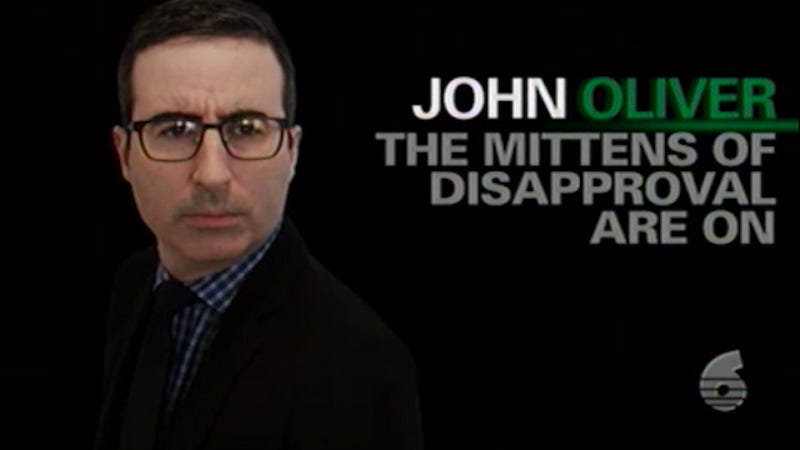 Comedian and Last Week Tonight host John Oliver responded to ex-FIFA official and wanted man Jack Warner's wild "The Gloves Are Off" paid political program by buying his own airtime on Trinidad television and airing a parody titled "The Mittens Of Disapproval Are On." We recorded it, and you can watch it above.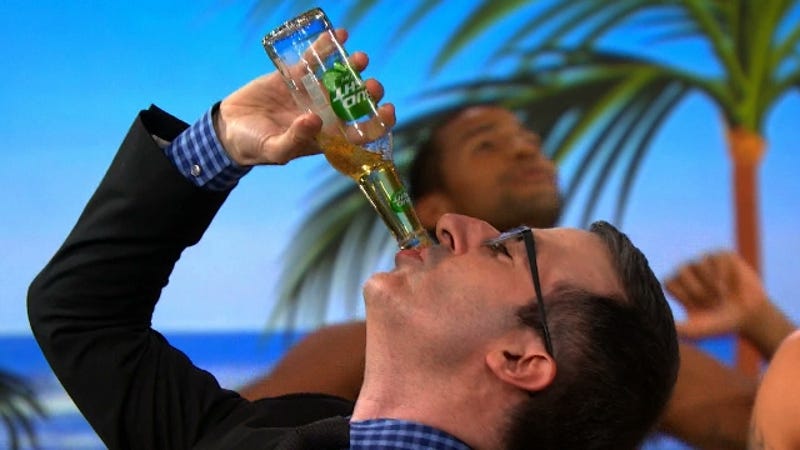 When Last Week Tonight host John Oliver pledged last week to consume a variety of McDonald's, Budweiser, and Adidas products if those brands made Sepp Blatter go away, nobody imagined he'd have to make good so quickly. But make good he did, last night—though not before describing Bud Light Lime as tasting like "the…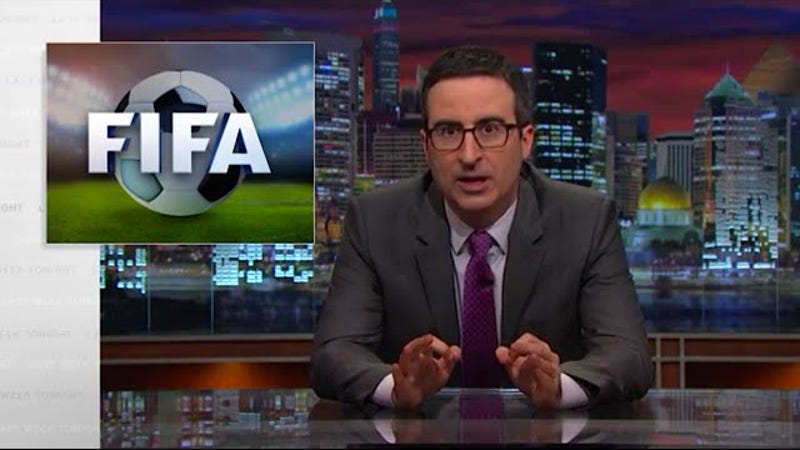 This week's Last Week Tonight With John Oliver monologue is very funny. If you've been following the increasingly ridiculous FIFA scandal, you'll delight in Oliver rolling out the greatest hits; if not, prepare to meet grotesques like the FIFA bigwig/government informer who rented an apartment in Trump Tower for his…
John Oliver dedicated a huge chunk of last night's episode of Last Week Tonight to battering the NCAA. The fact that he was able to go in on the NCAA's exploitative, hypocritical existence for over 20 minutes should tell you all you need to know about the lie that is college sports. You certainly don't have time to…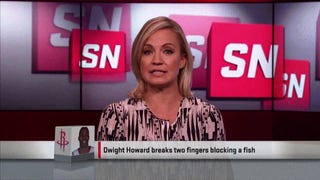 Thanks to John Oliver's Last Week Tonight segment on the salmon cannon, a device designed to help stupid fish get around dams so they can migrate and spawn, we have this wonderful GIF of Michelle Beadle getting a salmon to the head. Should've been you, Cowherd.
As an internet user, you're probably aware of the symbiotic relationship between popular broadcasters like Jon Stewart and John Oliver and the internet. It works like this: broadcasters sum up a current issue in an entertaining, shareable video, and then websites looking for content that takes no time or effort to…
Inspired by the anti-Redskins commercial that premiered during the NBA Finals, Last Week Tonight host John Oliver decided to air his own version of the ad, one that lays out precisely how indefensible Dan Snyder's refusal to change the name of his football team is.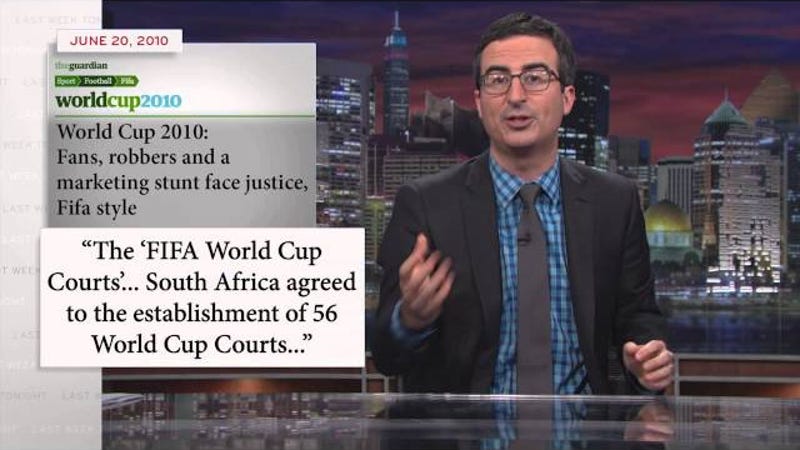 We spend a lot of time talking about what a cartoonishly corrupt organization FIFA is, but sometimes it feels like there's not enough time in the day to do a proper rundown of everything there is to hate about Sepp Blatter and his goons. Thankfully, John Oliver is here to give FIFA the comprehensive takedown it…