The Blue Jays are headed back to the ALCS for the second straight year after completing a sweep of the Rangers with a 7-6 win on Sunday night. It was their first postseason sweep in franchise history.
Reigning American League MVP Josh Donaldson was pulled from today's Toronto Blue Jays–New York Yankees game with a jammed right thumb, but not before he threw a shitfit in the dugout and had to be held back by Troy Tulowitzki while arguing with Blue Jays manager John Gibbons.

Donaldson went 1-for-4 with two…
Josh Donaldson probably shouldn't have tried tagging up here. This ball was hit to extremely shallow center field, and a good throw (or a momentum-aided one from one of the outfielders) probably nails him. But he decided to run, and instead we get to see one of the better tag-avoiding slides you'll ever see.
Oakland A's third baseman Josh Donaldson, who is great, has been doing some real dope shit lately. On Sunday night, he hit a walk-off homer in the tenth inning, and last night he turned in one of the best defensive plays we've seen all year.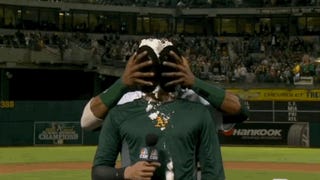 The Orioles and Athletics have suddenly become a very exciting, potential postseason matchup. It first started getting some juice thanks to a weird feud between two guys who featured prominently in this game: Josh Donaldson and Manny Machado. In a June series in Baltimore, Machado got upset at what he felt was an …
If I asked you to name the player who has accumulated the second-most WAR over the last calendar year, you'd probably flip a coin in your head to decide between Mike Trout and Miguel Cabrera. Or maybe you'd get a little creative, and name Yasiel Puig or Andrew McCutchen. One guy who probably wouldn't immediately pop…
The Rangers' David Murphy wedged this foul pop down the third-base line between the tarp and the padded sidewall. Or right to where the A's Josh Donaldson could get to it.