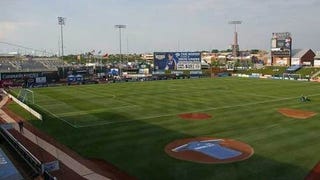 The KC Wizards are forced to reschedule a game because the semi-pro Kansas City T-Bones need the stadium for a Northern League playoff game that night. Let's hope the new date doesn't conflict with any 4-H meetings. [KCWizards.com]
Kansas City Bullets Wizards striker Kei Kamara had an early opportunity in a recent match against the LA Galaxy and proceeded to fall on his ass and get called for a handball. Anything for a laugh.
David Beckham had another run-in with fans—with the notoriously nasty Kansas City soccer scene—but the where and why is not really important. What is important, is that fans need to do a better job managing their smack talk.