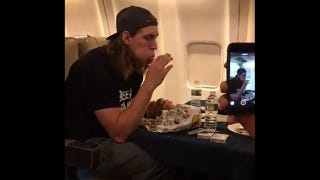 The NBA season is long and the plane rides are plentiful, leaving plenty of time for shenanigans. On a recent team flight Celtics center Kelly Olynyk was somehow convinced to attempt to take down a monster burrito in just four bites, and of course Amir Johnson documented it (and posted it to Snapchat). While Olynyk's…
For a team that just swept its first-round series and is comfortably in a two-power conference, the Cavaliers sure are messy right now. "There's a lot of things up in the air with our team," said LeBron James, as the Cavs head into a likely series against the Bulls without the services of starters J.R. Smith…
Celtics center Kelly Olynyk took an elbow to the face from teammate Shavlik Randolph during the team's shootaround earlier today, and suffered a laceration above his eye.
For the second time in a week, Miami Heat center Hassan Whiteside has gotten himself ejected from a game. In the third quarter against the Celtics tonight, Whiteside rammed over Kelly Olynyk, with seemingly no provocation besides the usual amount of contact between big men that had been going on all game long.
Kelly, you are not appropriately dressed for the conditions! Next time try to be more like your friend Rajon Rondo.