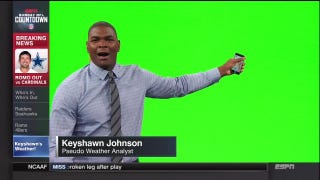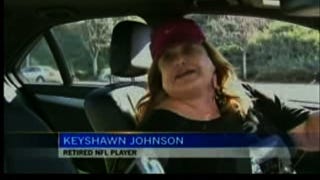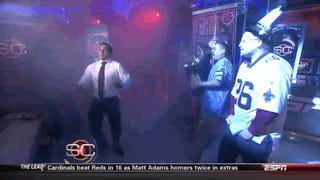 When you're at the store and need to pick up some wine for a meaningful occasion, are you really going to be perusing the selections and be stopped in your tracks by a Keyshawn Johnson vintage? The former NFL wide receiver and current ESPN analyst sure hopes so. He's started his own wine label, called KJ1, and the…
Gifted trash talkers as they are, Keyshawn Johnson and Cris Carter's insults do not always prove true. After shitting all over Baltimore's offense by calling Joe Flacco "a bum," the Ravens exploded Sunday and fired back at the analysts.
Here's an amusing little snag from Awful Announcing, featuring current "Inside the NFL" analyst Warren Sapp and budding home decorator/"NFL Live" analyst, Keyshawn Johnson. Sapp was responding to viewer questions during his "Ask Warren Anything" segment. One viewer was curious about Sapp's thoughts on his former …
Keyshawn Johnson's post-NFL career as an ESPN analyst has established him as a compelling on-air personality. Television producers have noticed, and now the loudmouth former receiver with the sartorial flair is taking his eye for interior design to the people — and basic cable. In one of the wackiest reality show…
T.O. would like to take this opportunity to clarify a few things. Yes, it sounded like he was complaining when he said that 18 throws and 2 running plays called in his honor was not enough involvement in the Dallas Cowboys game plan, but he seriously holds no ill will towards his coach, owner, offensive coordinator,…
That being said, the only way that this interview between Keyshawn Johnson and Chad Johnson could be more entertaining is if Clinton Portis suddenly appeared in giant glasses and clown shoes. I've never seen the interviewer get frustrated and end the interview ... isn't it usually the other way around?
If you want to relieve the sublime comedy of Keyshawn Johnson's "excitement" after learning that the Carolina Panthers drafted his "buddy" Dwayne Jarrett — thus securing his release from the team — the video above has the complete footage. It was funny at the time, but it improves considerably knowing what's going to…