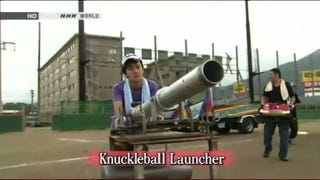 We've said before in this space that ESPN's pseudoscientific Sport Science segments are "sneakily awful," but this weekend I happened across something from Japanese national broadcaster NHK that puts ESPN to shame.
R.A. Dickey is one of the best stories in baseball this year, partly due to his singular, newfound success and the fact that he's doing it in a way different from every single other big league pitcher. As fate would have it, documentarians Anne Sundberg and Ricki Stern shadowed Dickey and Tim Wakefield's journey…
We've always thought if there were a mainstream sports breakthrough for a woman, a sport in which a woman could compete on the same field as men, it would be as a knuckleball pitcher in Major League Baseball. It doesn't require strength, and you need to be smart. And not just women can do it: Old men could too.