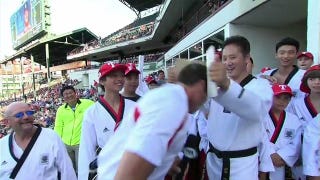 We're big fans of Texas Rangers sideline guy Jim Knox, and tonight Knoxie presented his latest stunt: teaming with the Taekwondo Association of Texas to celebrate Korean Night at the ballpark in Arlington with some board-breaking.
I will admit to not knowing exactly what's going on in this video from the Korean league, which you may have to click through to view. Perhaps we can work it out together.
Sung Woo Lee, who's been a fan of the Royals since the '90s, traveled from South Korea to Kansas City in August for his first game. Since Kansas City made it to the World Series, Sung Woo got time off from work to see Game One against the Giants. Sung Woo's back, baby!
What you see here, via our friends at MyKBO.net, is the mayor of Changwon, South Korea, Ahn Sang-soo, getting busted with an egg thrown by councilman Kim Sung-il.