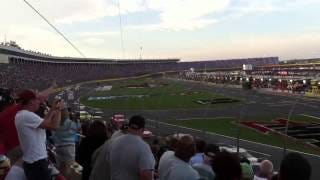 On lap 121 of Sunday's Coca-Cola 600 at Charlotte, a cable supporting an overhead camera snapped and fell across the track. Ten fans were injured, three hospitalized, and the race was red-flagged for nearly a half-hour after several cars were damaged. It could have been much worse, and the eyewitness video is…
The cable, which belonged to FOX, snapped and struck several cars at lap 124 of the Coca-Cola 600 at Charlotte Motor Speedway. Kyle Busch was in the lead, and presumably driving upwards of 200 miles an hour when the cable snapped and struck his car and others', causing the race to be red-flagged.
With 48 laps left in the "Super Bowl of NASCAR," mighty Rangi, Sky Father who gives breath to the World, had seen enough. He brought down the thunder and put a stop to the Daytona 500.