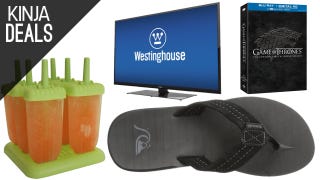 Here are all of the best Labor Day deals. Get every great deal every day on Kinja Deals, follow us on Facebook and Twitter to never miss a deal, join us on Kinja Gear to read about great products, and on Kinja Co-Op to help us find the best.
Look, anyone could forget about Labor Day. Right? This is what you tell yourself, rocketing homeward from the empty workplace it took you many long minutes to recognize is closed today and why—Oh god, is everybody coming over for a cookout? Did I tell them I'd host Labor Day? Oh god did I promise meat.
You're not going to the movies on Labor Day weekend, are you? Hollywood assumes you aren't. Unlike Memorial Day or Independence Day or Christmas or even Martin Luther King Jr. Day, this holiday weekend is perennially stacked with losers, the films that the studios don't want to think about anymore. Labor Day has been…
Yes, fans, the photo above is the mysterious Gourmet Spud of the brilliant Food Court Lunch. A helpful tipster spotted him in the canned goods aisle at a WalMart near Banff. He was buying 40 cans of Kirkland salmon.