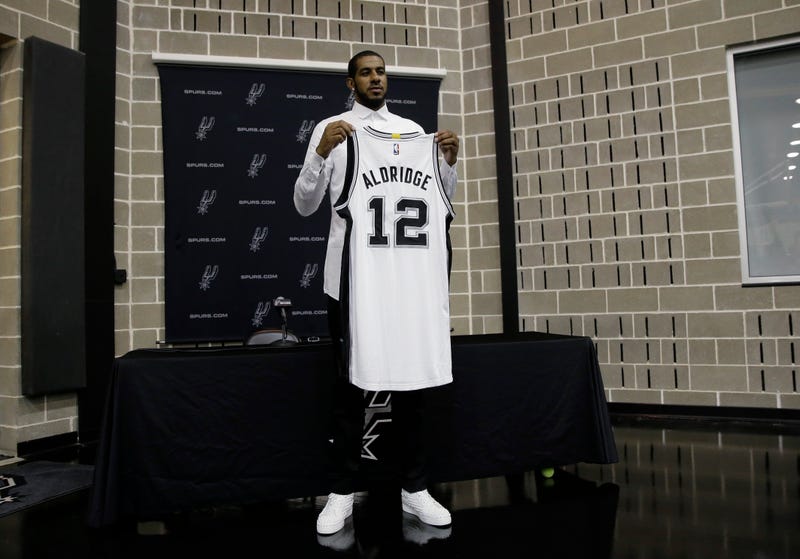 I don't want to keep piling on the Lakers (yes I do), but their failed wooing of LaMarcus Aldridge sounds like the biggest free-agency botch since Kobe Bryant spent a couple hours yelling at Dwight Howard across a conference-room table. And each new detail that comes out is sadder and more hilarious than the last.
As part of the effort to lure free agent LaMarcus Aldridge, the Lakers engaged in a frankly embarrassing 12:01 a.m. Twitter recruiting campaign. It doesn't seem to have worked. Almost a day later, at least four of those tweets have been deleted.
Here's how good LaMarcus Aldridge has been against the Rockets in the first two games of their playoff series: When I first saw this obviously fake and joke-y shot chart on Twitter this morning, my first thought wasn't, "Haha what a silly and stupid thing that is." It was, "Yep. Looks about right."
The sketch above—starring the Portland Trail Blazers—is set to appear in tomorrow night's episode of Portlandia. Inasmuch as I am the exact target audience for this bonkers cross-promotion between a professional basketball team and an IFC sketch comedy show, I approve.
The Trail Blazers seem to have some magic about them this season. Knocking on the door of the playoff picture, Portland overcame a 21-point second-half deficit to pull out a last-second win over Dallas, thanks to a pair of unlikely sharpshooters. Nicolas Batum tied the game with a rushed three with 28 seconds left,…
While he has been rehabbing from hip surgery in May, LaMarcus Aldridge has been posting on his blog called LA's Rehab Central, part of the Trail Blazers Bloggers Network. The other two posts on the blog are quick updates about how his rehab is progressing. They are pretty innocuous posts along the lines of "Hey, I'm…