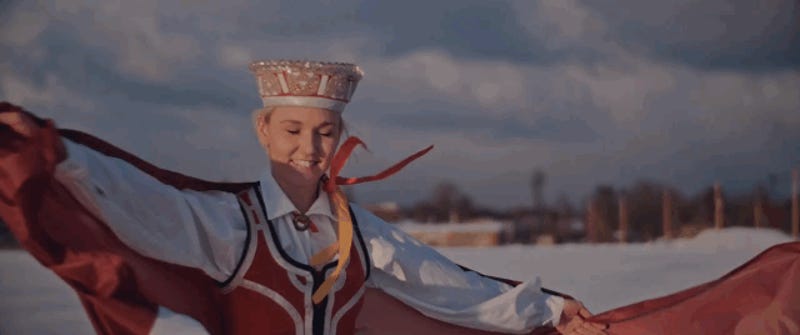 One music video about Latvian-born New York Knicks rookie Kristaps Porzingis wasn't enough. There's a second one titled "Keep Calm Like Kristaps Porzingis," which features Lamborghinis in the snow, dabs, and heavy influences from Future.
Sabres center Zemgus Girgensons remains on track to start the NHL All-Star Game, with 82 percent of his league-leading vote total coming from his native Latvia.
Kristaps Zile of Latvian club HK Rīga dispensed one of the weirdest hockey checks ever on an opponent Friday night. (It's at the 0:25 mark, though the video should start there for you.) Zile went for a hip check on Red Bull Salzburg's Lukas Pozgay but instead carried Pozgay quite a length, right into the boards.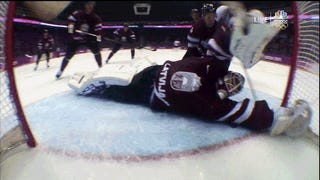 Canada and Latvia—Latvia!—are tied 1-1 late in the third, and it's hard to say exactly why it's so close. Canada's leading on shots 847-3 (rough estimate), but only managed a single first-period goal from Patrick Sharp. (Update: Canada just scored. 2-1 now.) Here's how close they came to netting a second.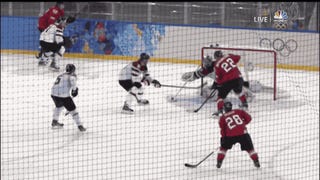 In the opening game of group play for Switzerland and Latvia, the Swiss won with the hockey equivalent of the magic bullet. Simon Moser was credited with the goal because his pass, headed for Nino Niederreiter in front of the goal, was tipped by goaltender Edgars Masalskis's stick into defender Georgijs Pujacs's arm…
Latvian news site Puaro has published a pair of photos showing what it claims to be Warriors center Andris Biedrins, on the receiving end of some public loving. The site is short on details, running only this short caption, helpfully butchered by Google Translate: