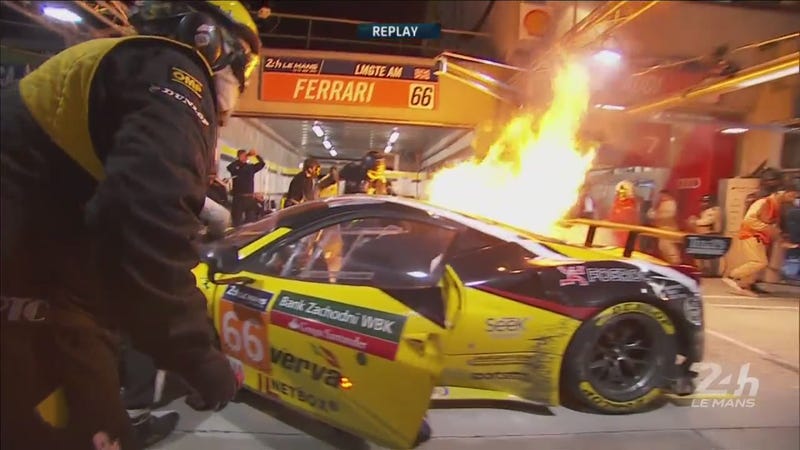 Holy shit! This Ferrari 458 Italia from JMW Motorsport burned like a... like a... like a Ferrari.
Nissan will be heading to the 24 Hours of Le Mans this year, with what we believe to be a reveal of their new race car set for the Super Bowl. We can't wait that long, so here's our exclusive early look at what the new Nissan GT-R LM NISMO, aka Nissan's new LMP1 car, will look like.
The No. 2 Audi R18 e-tron quattro, piloted by Marcel Fassler, Andre Lotterer, and Benoit Treluyer took the checkered flag in the world's most grueling endurance race, the 24 Hours of Le Mans. Congrats to the entire team.
The death of Allan Simonsen at the 24 Hours of Le Mans and the death of Jason Leffler one week prior prompted a review of the six different medical causes of race car driver deaths, and what is being done to make racing safer.
After his car was clipped by the Ferrari driven by Piergiuseppe Perazzini, Anthony Davidson's Toyota went airborne in a sickening twisting flip before crashing into a safety wall of tires. He was taken to the medical center but appears to be in good condition.