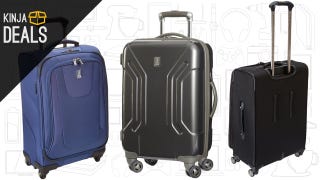 If you want to upgrade your luggage for your upcoming holiday travel, Amazon's offering substantial discounts today on a variety of bags from Travelpro, one of the most trusted names in the business.
All this 4.9 star-rated luggage scale has to do is save you from an overweight baggage fee once, and it will have paid for itself several times over.
We recently asked you to tell us about your favorite Carry On Luggage, and the huge number of great picks were some of the most interesting nominations we've had to tally so far. Now we've got our top five, and it's time to decide which bag really deserves to fight its way through security with you.
Even on the long lists of gripes I have with air travel, sitting helplessly in my cramped, hot seat as the airline loses or destroys my bag still really stands out. A great piece of carry on luggage remains safely with you, saves you a trip to the luggage carousel, and protects all the great gear you were inspired…