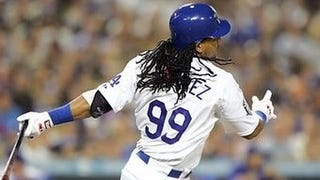 Oh, Manny. Hiding in the Green Monster, cutting off cutoffs, popping women's fertility drugs and, on Tuesday, surprising everyone by showing up in the Dodgers clubhouse. Well that's not exactly allowed, ESPN's Buster Olney reports.
Once word of the Esquire interview leaked, Red Sox closer Jonathan Papelbon knew he'd have to elaborate on some of his comments about his ex-teammate.
• Phillies 8, Dodgers 5 Taking the advice of his marriage counseler, Brett Myers decided to get rid of his aggression on the field by making the Doyers his bitch. Myers pitched well enough to win, but did the real damage with his bat, to the tune of a 3-for-3 night with 3 RBIs. The wife can rest easy for the next few…
Oh please, don't let me go to L.A! I'll do anything you ask: "For the Sox, the source said, Ramírez's pledge of good behavior only served as a tacit admission that his disruptive conduct of the last couple of weeks had been calculated, and they had had good cause to suspect more was in the offing if they did not trade…
With
John Maine headed for a shoulder MRI
, it would seem that the Mets have bigger problems; but at any rate, Manny Ramirez seems to be back on the table. Despite Monday's denials, both the Mets and Red Sox are admitting today that they've been in touch. Suddenly Manny as a Met is a real possibility, if not now, then…
Pretty much everyone agrees that it's doubtful Manny Ramirez would be cast off from the Red Sox before the end of this season. The inexplicable Rays and resurgent Yankees have seen to that. But as far as 2009 goes, don't expect our hero to be hanging around Fenway. He could very well be a Cub, a Dodger an Angel or ...…
As Brett Favre retirement stories were to the NFL prior to his bizarre un-retirement saga, the Red Sox trading/losing/cutting Manny Ramirez has been a similar annual storyline in Major League Baseball. For the last few years, the Red Sox have answered the pressing "What about Manny?" question, but just when you think…
Boston Red Sox' left fielder Manny Ramirez once again showed off his goofball side during yesterday's shellacking of the Minnesota Twins, to the head-shaking delight of ManRam fans everywhere, after he took some time away from concentrating on baseball to eat up some overtime minutes.