Fine, shootouts are bad at determining the outcomes of games, but let's shelf that argument for another time and instead watch Patrick Kane punk Marc-Andre Fleury with the same effort required to put together a peanut butter and jelly sandwich. Actually, you probably exert more effort making a peanut butter and jelly…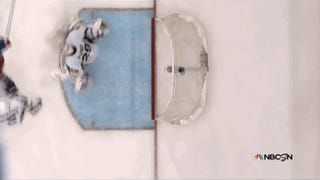 The Rangers have hit the post or crossbar three times tonight, and remain scoreless through most of two periods. The Penguins have done it twice, but they've also hit the net twice for a 2-0 lead. After Mats Zuccarello hit the crossbar halfway through the second period, a thankful Fleury was seen rubbing down the…
Honest-to-goodness NHL hockey is back tonight! (Sort of.) But if you need some novelty to ease the transition from the Olympics to the stretch run, Saturday marks the fourth and final Stadium Series game. The Penguins will take on the Blackhawks at Soldier Field, and as is tradition, both goalies will take the ice…
Marc-Andre Fleury turned in the single best glove save of the year so far, absolutely robbing Erik Karlsson and preserving a tie in what would be a 2-1 Penguins OT victory. I can't say enough great things about this save, and the flexibility and reflexes required to snatch that puck out of the air while flopping to…
The Bruins have been salting the earth behind them in these playoffs, traumatizing Toronto and spurring New York to fire John Tortorella. Might they add to their coachkilling spree with Dan Bylsma's head? One report has owner Mario Lemieux already reaching for the ax.
The Philadelphia Flyers increased their Stanley Cup playoff series lead on Pittsburgh to 3-0 yesterday after a mess of a game best illustrated through metaphor. The six goals allowed by Penguins goalie Marc-Andre Fleury ran his total allowed in the series to 17—a number that looks even worse when compiled into one…
Until we could get word on his condition, we've avoided making fun of Marc-Andre Fleury's collision after leaving his net for a poke check on Frans Nielsen's breakaway at the end of the second period of a 5-3 Islanders win. Stifle mirth no longer! The Penguins netminder is fine after taking an elbow to the head from…

This probably wasn't the way to intimidate the Detroit Red Wings coming into Game 1 of the Stanley Cup finals. The goalie, his name is Marc-André Fleury, and there is a caution stripe on that step. Either that or they just mopped.