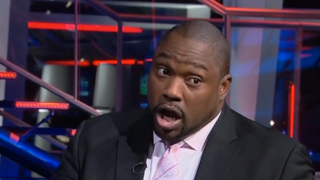 On his radio show last week, Dan Patrick baited Warren Sapp into saying some dumb stuff about "kids these days"—how about Cam Newton celebrating a touchdown when his team is losing?! What a glory boy!—and Sapp took the bait, hook, line and sinker: not only did he incomprehensibly declare, "These kids that play the…
Marshall head coach Tom Herrion appeared to have survived "The Big One" toward the end of the second half against UCF on Saturday, when he was allegedly elbowed by Knights guard Isaiah Sykes and collapsed in pain. Repeatedly. And rather dramatically.
I wasn't aware that Little Caesars even still existed, but hey, here's your two-game open thread for the price of one. It's Marshall-Ohio at 1:00, while Pittsburgh battles UNC in the Meineke Car Care Bowl at 4:30. I guarantee it.
If you stayed up past midnight on the east coast last night to watch USC-Oregon State right now you're blearily wiping your eyes and cursing the decision as lunch nears and all you want to do is crawl under your desk and sleep. If you're like me you might also be questioning why you let Birmingham, Alabama's finest…