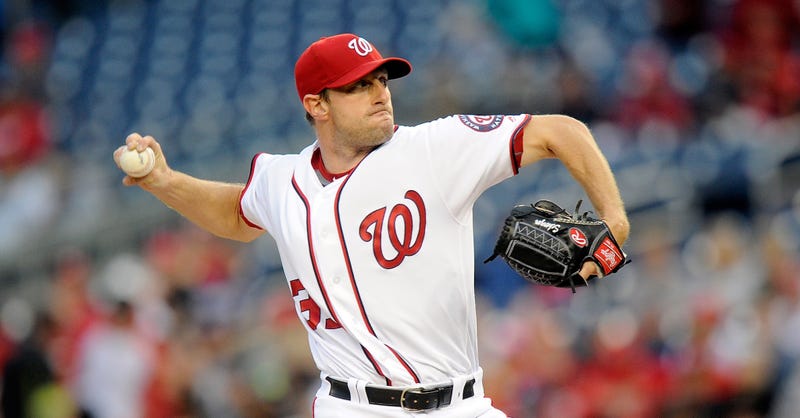 Max Scherzer tied the MLB record with 20 strikeouts against the Detroit Tigers tonight, throwing 96 strikes on 119 pitches in nine innings of work as the Nationals won 3-2. He had a chance to get 21, but James McCann grounded out to a sheepish Daniel Murphy. Scherzer struck out at least two Tigers in every inning but…
The Washington Nationals, the saddest and most dysfunctional team in the league, are somehow still playing baseball games. I kind of assumed that everyone had already packed up their shit and gone home for the winter, but nope! They're still out there, pitchin' and hittin' and catchin'. At least Max Scherzer and Bryce…
Max Scherzer put the Milwaukee Brewers in his pocket and took 'em for a walk Sunday, effortlessly pitching a complete game, one-hit shutout while striking out 16. He threw 119 pitches and walked one, with the only hit coming off a bloop single in the seventh. It was, pretty much literally, better than perfect.
Deadspin readers have overwhelmingly demanded to know what it would look like if various major leaguers had pitcher Aaron Harang's distinctive eyes. In the interest of service to you, the reader, we present various major leaguers with Aaron Harang's distinctive eyes.
This is the week when most MLB teams have their official Photo Day, meaning that we have once again been graced with a bunch of pictures of professional athletes looking like awkward eighth-graders. We browsed through a bunch of this year's crop and found our favorites. Blue Jays catcher Jack Murphy, who looks eager…
CBS Sports reports that Max Scherzer and the Nationals have agreed to a seven-year deal. He'll join a rotation that includes Stephen Strasburg, Jordan Zimmermann, Doug Fister, Gio Gonzalez, and Tanner Roark. But just ask the Tigers: the best rotation doesn't guarantee anything.
Max Scherzer was right. When Tigers manager Brad Ausmus strolled to the mound to pull him out of Thursday night's ALDS opener, Scherzer was observably unhappy. Sure, he'd yielded four runs across 7 1/3 innings to the Orioles, and Alejandro De Aza had just ripped a double off of him. Scherzer is the reigning Cy Young…
This morning, the Tigers woke up and decided to call their reigning Cy Young winner greedy. Max Scherzer was apparently offered a long-term deal "that would have placed him among the highest paid pitchers in baseball" and he turned it down. So the Tigers put out a press release killing him for it and informing the…
Everyone is now reporting that the Tigers have traded slugger first baseman (and, didjaknow, baseball's reigning Iron Man?) Prince Fielder to the Rangers for second baseman Ian Kinsler.
Max Scherzer and Felix Hernandez are both fine pitchers who strike hitters out in gobs. But they had never before been part of something like last night's Tigers-Mariners game. Nor had any other Tiger or Mariner.