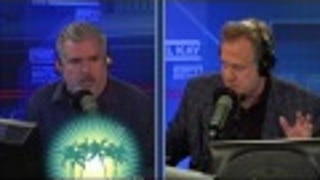 Today marked the debut of the YES Network's simulcast of Michael Kay's ESPN radio show—taking the spot of Mike Francesa, who parted ways with YES after 12 glorious years together. As they took the air, Kay and partner Don La Greca took a not-so-subtle shot at Francesa, dumping a bottle of Diet Coke in the trash.
The YES Network's Michael Kay is very excited over the return of Al Leiter for tonight's game, and just posted this photo to Twitter. This is absolutely the broadcast booth equivalent of sword fighting in the men's room.
An unfortunate scene unfolded in Arlington tonight as a pair of Rangers fans caught a foul ball tossed into the stands by Mitch Moreland in the eighth inning of Rangers-Yankees, then refused to give the ball to the toddler sitting next to them—instead choosing to pose for pictures and generally behave like…
There are people who love sports talk radio, and there are people who hate it. The following clip, from the always worthwhile Fire Joe Morgan will likely thrill both sides.
As loyal MLB.tv subscribers — honestly, if you're paying for the MLB TV package for your TV rather than your computer, you're getting ripped off — our favorite parts are usually when the game isn't going on. If you find the right feed, it won't jump to commercial like on regular telecasts and you can hear the…