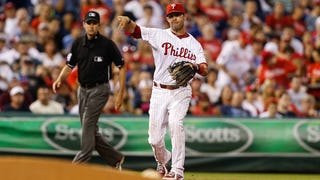 The Phillies are going to trade Michael Young by tomorrow's deadline; they have to. They're going nowhere, they just called up their third baseman of the future and Young, a free agent to be, could bring a midlevel prospect in return. There's only one problem: according to a report, Young just slit the throat of any…
Our pal Drew Fairservice at Getting Blanked spotted this bit of weirdness concerning the status of Michael Young's former space in the Texas Rangers' locker room. This morning, baseball writer Bob Nightengale tweeted the following:
Michael Young was traded away from the Rangers this afternoon, and his number one fans, also known as the local sports media circuit, were a little upset. Chief among those angered was Evan Grant, the beat writer for the Dallas Morning News. Grant has had issues in the past with impartiality when it comes to Young…
As many have pointed out, the All-Star Game last night was ultimately pointless, if just because it doesn't really matter who has home-field advantage when the American League is just going to sweep anyway.