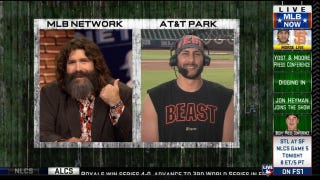 We love when old-time wrestling heroes intersect with "real" sports, so it was a treat on MLB Network this afternoon when Mick Foley joined the MLB Now panel for an interview with San Francisco's Michael Morse. Tune in for the Daniel Bryan conversation, stay for the reference to Mick Foley not having a right ear!
In keeping with our inability to notice anniversaries until it's too late, we'd like to point out that it was 15 years ago last night that Mankind and the Undertaker faced off in one of the most memorable and brutal wrestling matches of all time.
"Finding solitude in a far corner of the frigid backstage area," recalls the semi-retired hardcore wrestler, right here in Slate.com, "I saw a cloud of my own breath as I pressed the play button. 'Snow can wait, I forgot my mittens. ...'"