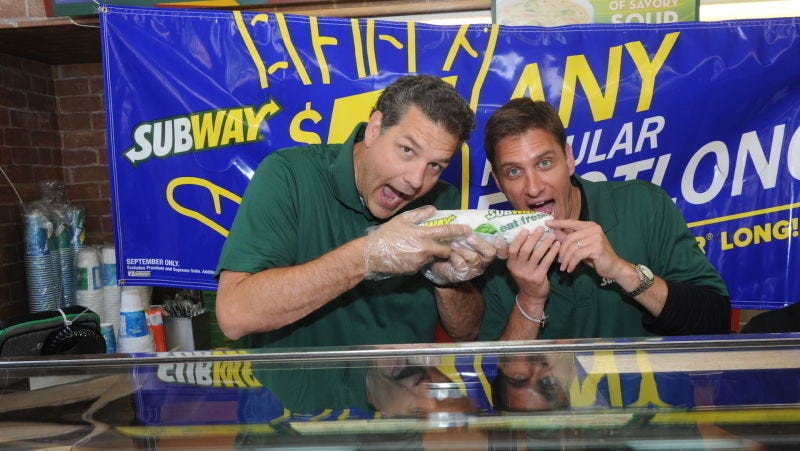 Mike weighed in on the supposed Mike drama last month and now, Mike has, too.
Days after Mike Greenberg and Mike Golic, two ESPN employees who happen to share the same first name, officially announced that their radio show Mike & Mike would be ending this year, a new report from Richard Deitsch of Sports Illustrated suggests that there might be more to the Mike situation than meets the eye.…
The big Mike news that we all heard about back in January is finally official: Mike Greenberg and Mike Golic, the hosts of ESPN's Mike & Mike radio show, are going their separate ways. This is the end of the Mikes.

Yesterday morning, while on set in Miami, Dan Patrick half-jokingly invited ESPN's Mike Golic and Mike Greenberg to come on to his show. Greenberg declined, but Golic gleefully obliged. Technically, ESPN personalities are forbidden from appearing on competing shows. CHAOS.
It's a Mike Golic. The "Mike and Mike" show now has its own website and is running daily photo caption contests for their listeners and ESPN readers. (No Facebook direct connectedness is available. Yet.) The comments have so far been predictably ESPN commenter-like. Observe:
Mike Greenberg, the well-manicured, impish half of "Mike And Mike In The Morning" was interviewed by Dan Levy on his OnTheDL show and was asked if the show is"dumbed down" to cater to the average sports fan. Greenberg would never undermine or insult his audience like that, but he did take his usual potshot at co-host…
What on earth could have possibly driven the ESPN duo Mike And Mike (or greenberg golic ESPN) to the "On Fire" setting on Google trends earlier this afternoon? I saw this earlier today and thought something preposterous happened on-air this morning, like Golic attacked Greenberg with a mallet. But apparently it…
On Thursday, we casually mentioned that "Mike And Mike In The Morning"'s Mike Golic admitted to taking steroids on his show. (Well, not while doing his show. You know what we mean.) Co-host Mike Greenberg did a "moving right along!" dipsey-do, and no one would have noticed it if hadn't been for those damned bloggers.…
So here's something bizarre and sad. You know that salmonella outbreak that has been tied to Peter Pan peanut butter? (And, to a lesser extend, Wal-Mart's "Great Value" house brand?) It hasn't caused any deaths yet, but almost 300 people in 39 states have fallen ill from it.
We don't want to get stuck in Kick ESPN mode today, but we've been thinking more and more about this "Mike and Mike in the Morning" radio wedding thing, and we think it might be the most insane thing we've seen in many a moon. We can't get our minds around it. We're not sure what we think is craziest. Is it that you…
When we heard that the "Mike and Mike In The Morning" ESPN radio show was doing some sort of wedding special, we thought, "Jeez, about time! Now we can finally answer the question: Which one is Jack, and which on is Ennis?"