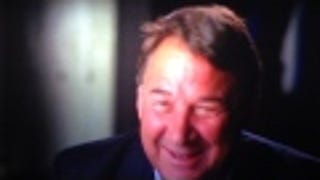 Last night's "30 for 30" was Big Shot, a look at John Spano, the con man who briefly purchased the Islanders before the NHL realized he didn't have any money. (A similar scenario would play out in Nashville just 11 years later.) The most prurient part was then-GM Mike Milbury recounting how Spano offered to have "the…
It's all gone wrong for the Capitals, sitting firmly in last place in the East. (They do have a game in hand on the Islanders, which is a very sad parenthetical to write.) Fairly or not, much of the blame has fallen on Alexander Ovechkin, once a consensus Top-2 player in the world, now painted as an underachiever…
A discussion of rough play in the NHL appeared to approach violence itself as hockey dad Mike Milbury and analyst Jeremy Roenick engaged in a heated argument live on NBC Sports Network.
In 2001, the Canucks broke camp with two goaltenders: lifetime backup Dan Cloutier, and some dude. (Martin Brochu is about as "some dude" as a pro hockey player can be. In three non-consecutive NHL seasons, he got nine starts and didn't win a single one.) It was a personnel mystery that's endured to this day, mostly…
Last Friday evening, two Boston-area youth hockey teams got together for their own Winter Classic, to be held outside at the Anderson Rink in Brookline. It was going to be a good time: an exhibition game between the Boch Blazers and the Boston Junior Blackhawks, followed by a family skate and a pizza party. (Each…
Milbury, the outspoken TV analyst and former Bruins defenseman who has vehemently protested the "pansification" of hockey, is also a coach of a youth hockey team in Massachusetts. At a game in Brookline, last week, something happened. Details are scarce, but WCVB in Boston is reporting that Milbury was charged with…
The hubbub over Alex Burrows' biting Patrice Bergeron's finger in Game 1 intensified when the not-suspended Burrows scored two goals in the next game, including the game-winner. Max Lapierre didn't exactly help the cause when he offered Bergeron his own digit as compensation. "Have a bite! There's a character,"…
There's been some talk lately—as there usually is about once a year—about ending fighting in hockey. Of course, that would not put a stop to the much more entertaining fights between talking heads.