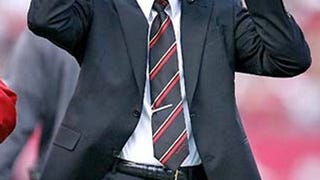 Well,
here is your new face of the San Francisco 49ers
. Initial thoughts? Aside from being totally hyp-no-tized, I have to say that it really couldn't be any worse than the old one. There was perhaps no coach in the NFL one wanted to see succeed more than Mike Nolan — really, has anyone ever had a bad thing to say…
AJ Daulerio's Cultural Oddsmaker runs every Friday. Email him to let him know what you think.
Other Thoughts On The First Weekend Of The NFL:
• As the only guy who ever brought the Buzzsaw to the playoffs, we will always have a soft spot for Broncos quarterback Jake Plummer. But, what, with the out of control hair (facial and otherwise), angry anti-war screeds and the tendency to throw the ball to the other…