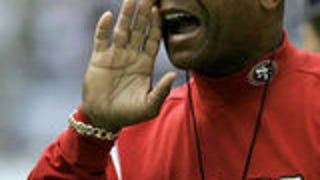 Remember that whole "Mike Singletary Doesn't Much Like Talking" post from seven days ago this very minute? Fine, refresh yourself.
Every morning, the fine folks at Sports Radio Interviews sift through the a.m. drive-time chatter to bring you the best interviews with coaches, players, and personalities across the sports landscape. Today: trow dropper and 49ers coach Mike Singletary.
Yeah, this is an interesting comment: "But Kim had never envisioned herself in an interracial relationship. She kept thinking, 'I'd sure like to meet someone like him who is white.' [SBB]
Mike Singletary says he wants the 49ers to be "physical ... with an F." I don't even know what that means, but he's officially my new favorite coach. [SF Gate]
Mike Singletary wastes no time as new Niners coach to fire that surly old white guy who ran the offense. [SI]
The newest feature on The Late Show With David Letterman involves an occasionally pantsless San Francisco 49er head coach. "I'm not a doctor!"
The big question in San Francisco right now: Should Mike Singletary be kept on as head coach next season? The overwhelming sentiment so far is yes, although Jets' wide receiver Brad Smith may not agree. If there were ever any doubt as to whether the 49ers would begin to take on Singletary's rabid personality, this…