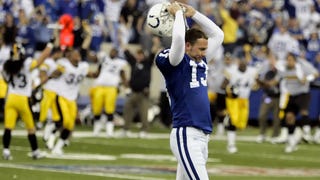 Mike Vanderjagt spent eight seasons as an NFL placekicker, and he was very good at what he did: In 2003, Vanderjagt became the only kicker in league history to go an entire season—playoffs included—without missing a field goal or an extra point. And he still ranks second all-time in career field-goal percentage. But…
The sea was angry that day, my friends. Like an old man returning soup at a deli.
We've always been curious about what happens to those pre-made shirts that say things like "Houston Astros 2005 World Series Champions" — it turns out this is what happens — but now we have a new question: What about those "special editions" newspapers put together weeks in advance that end up being moot?
• Ordinarily, we come down on the side of kickers, if just because we have much more of a physical resemblance to them than 350-pound ogre lineman. But it's pretty much impossible to feel much sympathy for Colts gakker Mike Vanderjagt, whose missed field goal yesterday was somehow the perfect ending to one of the…