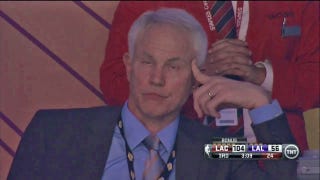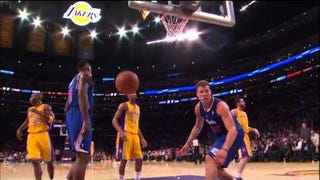 This video from @CJZero is a beautiful microcosm of the current state of Los Angeles basketball. Sure, the Lakers have farted along all year while the Clippers are a high-scoring playoff contender, but Blake Griffin's dunk and the following reactions really represent the two teams' NBA seasons well.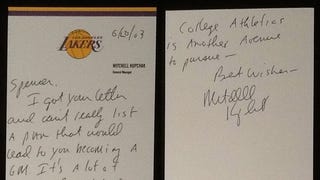 When Bill Sharman died on Friday, he was eulogized not as just one of two men to make the Basketball Hall of Fame as both player and coach, but as a prolific letter-writer. He sent hand-written notes to players, writers, and fans, responding to just about anyone who wrote him. Receiving a letter from an athlete can be…
Every morning, the fine folks at Sports Radio Interviews sift through the a.m. drive-time chatter to bring you the best interviews with coaches, players, and personalities across the sports landscape. Today: We'll never stop talking about the time a guy didn't get hired.
I'm not sure we're far enough removed to appreciate what an incredible story this is in the annals of sports: The Lakers turned down Phil Jackson. Someday they'll write a book or make a 30 for 30 about this, and we'll get all the details, but for now we just have to piece together what we know—and that includes,…
Only true Lakers believers (or the truly blind) couldn't see the Lakers' season was nearing an end long before the horn sounded on last night's 106-90 series-seizing Thunder victory. Yet it seems the moment of truth for Lakers GM Mitch Kupchak came at a time that TNT producers jumped upon for maximum effect (and,…