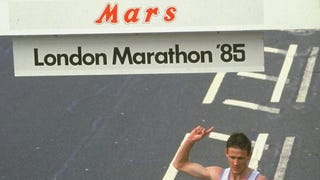 Mo Farah, the British Olympian who won double gold in the 2012 summer games, predicted that the very least he would accomplish in his first go at 26.2 miles, the London Marathon in April, would be to break Steve Jones's 29-year-old U.K. record of 2:07.13. Farah trains with Alberto Salazar and the Nike Oregon Project.…
Good news and bad news, white people. Good news is, for the first time ever, a non-African (ok, he is a New Zealander) won a 5K race over a field of Kenyan runners on Kenyan soil. No literally, it was a dirt track.
You remember Mo Farah, right? He's the Somali-born runner who became the darling of the 2012 Summer Olympics after winning gold in the 10,000 meter and 5,000 meter races. How could you forget the man who gave us this image?
Mo Farah, gold-medal winner in the men's 5,000m and 10,000m this summer in London, hilarious celebrator, and world-famous meme, couldn't get through customs in Oregon over the Christmas holiday because he is of Somalian descent. That'll show him for beating us in the Olympics! (And also expose our border control as…
Remember Mo Farah? He won gold for Great Britain in the men's 5000m and 10000m races at the London Olympics, everyone in the UK totally freaked out, and then he ran away from some stuff.
Mo Farah scored a royal double for Great Britain in winning the 10,000m and today's 5,000m, and the importance of his win can really only be understood through how their media covered the event. Here, then, is the final 150 meters of his race, with isolated cameras on announcer Steve Cram and the BBC analysis team.…