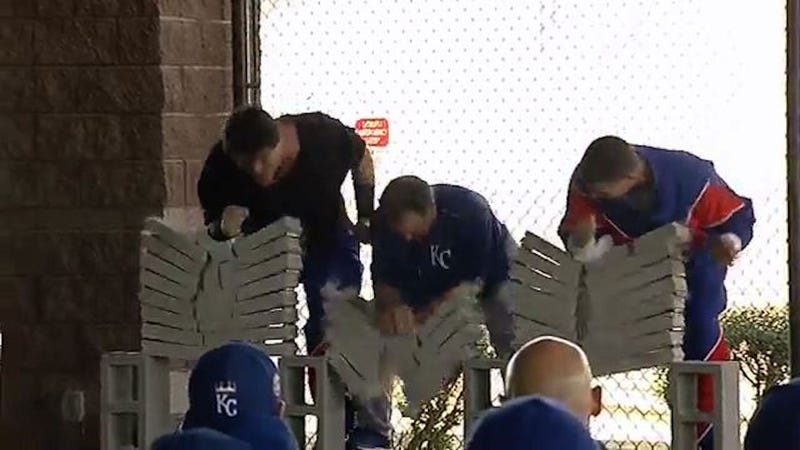 Royals manager Ned Yost loves the work of motivational speaker Donnie Moore so much that he joined Moore during a presentation to the Royals today, crushing through six inches of brick to amid hootin' and hollerin' from his players.
Apparently Louis van Gaal isn't the only manager who wants his players to be horny for victory. One coach who shared the Dutchman's preference for literal hard men, Joaquín Caparrós, even went as far as incorporating porn in a pregame talk to ram his point home.
Muhammad Ali is certainly best known as a boxer, but he's also an incredibly productive, inspirational person. He's done a lot done in his life, so let's take a look at some of his best tips for gettings things done and enjoying life.
If you've settled into an exercise routine that works for you the next thing you may struggle with is making yourself at home in the gym. We're talking about making sure you exercise properly, make progress, and don't hurt yourself. Luckily, there are plenty of places to turn for good advice. Let's look at some of…
It must be hard for NFL coaches to come up with fresh motivational techniques. You can't just slap a "Play Like A Champion" banner above the door or put some mean things that an opponent said about your quarterback on the bulletin board anymore. Those tactics are played out, and San Francisco 49ers head coach Jim…
"The sources said [coach Jim] Marsh, also an English teacher at the high school, ordered the team bus to pull over near the cemetery. He then asked the roughly two dozen players to get out and lay on the graves. The players rested there for several minutes while Marsh preached about the importance of playing hard,…