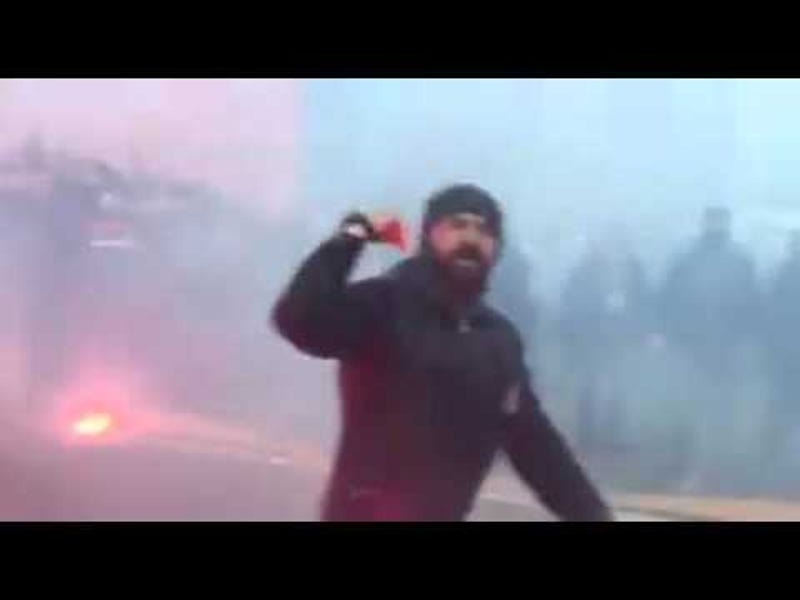 As the Napoli team bus set off for Turin ahead of tomorrow's monster Juventus-Napoli showdown, something like 1,000 Neapolitans showed up to see their boys off. Or, more accurately, to block the bus's path in order to hoot and holler and light flares and gin up the players so that they step out on the pitch as charged…
Napoli manager Maurizio Sarri probably feels lucky today. Days after calling Inter manager Roberto Mancini a "faggot" during a game, the Italian soccer federation has fined him €20,000 and given him a two-match Coppa Italia suspension. It could've been a lot worse.
Yesterday's tense Coppa Italia Inter-Napoli match boiled over when the two teams' managers got into a sideline argument towards the end of the game, for which Inter coach Roberto Mancini was sent off the pitch. After the match, an upset Mancini decried his counterpart Maurizio Sarri's behavior, claiming he was called…
Just when we thought Lionel Messi would finally end Argentina's trophy drought and in the process get those dumb doubters from his native homeland off his back for good this weekend, Gonzalo Higuaín went ahead and shat the bed. Since we can't sing the G.O.A.T.'s praises today, let's at least take some solace in…
In a season where Phillip Hofmann committed this crime against finishing, it would take a special bit of incompetence to snatch away the award of Miss Of The Season. This is not that. It is, however, a really bad effort from a really good player, making it particularly embarrassing in its own right.
We all know about Mesut Özil by now. The 24-year-old playmaker is the truth. From the moment he first took the pitch for Arsenal last month, he's been setting up goals for his teammates, even though he's been unable to find the net himself since moving from Real Madrid. But that finally changed today in the eighth…
There are 32 teams left after the Champions League playoff round ended yesterday, and so today was the Champions League draw, where the teams were divided into eight groups of four for the group stage of the tournament. There will be plenty of analysis and explanation and bloviation around the internet throughout the…
Earlier this week, French champions Paris Saint-Germain bought Uruguayan forward Edinson Cavani from Italian side Napoli for a reported €64 million ($84 million). It's the fifth-highest transfer fee ever. What's also worth noting is that Cavani went for more than both Radamel Falcao's transfer to AS Monaco and Neymar…