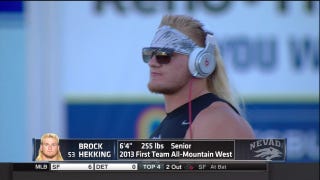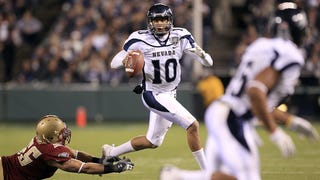 Every morning, the fine folks at Sports Radio Interviews sift through the a.m. drive-time chatter to bring you the best interviews with coaches, players, and personalities across the sports landscape. Today: Ault wasn't impressed when he first met Kaepernick at Nevada.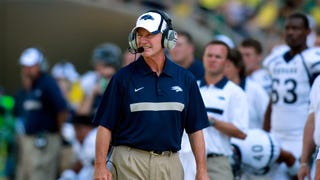 Chris Ault, the innovator behind the pistol offense and long, long-time head coach of Nevada Wolf Pack football, is officially stepping down after 28 (non-consecutive) years. In that time, Ault recorded some impressive statistics, including only two losing seasons in his tenure, and 27 seasons of outscoring…
On Friday, ESPN senior vice president and executive producer Mark Gross sent a memo to his staff. It read in part:
Hawaii is a long way away from everything, true. And the Sheraton Hawaii Bowl doesn't really care, because Nevada is on the hook for the entire allotment anyway. (It was 5,600 when the Wolf Pack played this game in 2009.) Sounds like a lot of military personnel are going to get to watch some free football! [Reno…
By thwarting the Broncos' BCS bowl hopes, the Wolf Pack cost themselves and every WAC team a million dollars each in BCS revenue. We're not ones to encourage immoral and illegal actions, but, yeah, they probably should have just tanked. [Business Insider]
1. The McGee Family Reunion Comes With A Shot Clock. JaVale McGee's mom Pam and Aunt Paula won the 1983 & 1984 NCAA basketball championships with USC. Although Aunt Paula (who got robbed) wasn't selected for the Olympic team, Mom won a basketball gold medal in 1984. His dad, George Montgomery, a 6-8, C/F out of…
Nevada Wolf Pack (27-5) vs. Montana Grizzlies (23-6).
When: Thursday, 3:10 p.m. ET
Where: Salt Lake City
1. There Isn't Much Sex ... On Campus, Anyway. Terrence Green played basketball at the University of Nevada from 1999-2003. Lyndale Burleson is on the current Pack squad. Burleson is the little brother of Minnesota Vikings' receiver (and former Nevada standout) Nate Burleson the only Viking NOT to go on the Sex Boat.…
Well, when your supposedly legendary franchise has started the season 2-3, you just lost at home to a team from the WAC and your head coach boss thinks he's actually fooling anyone with that toupee ... sometimes all that will leave you in a foul mood.