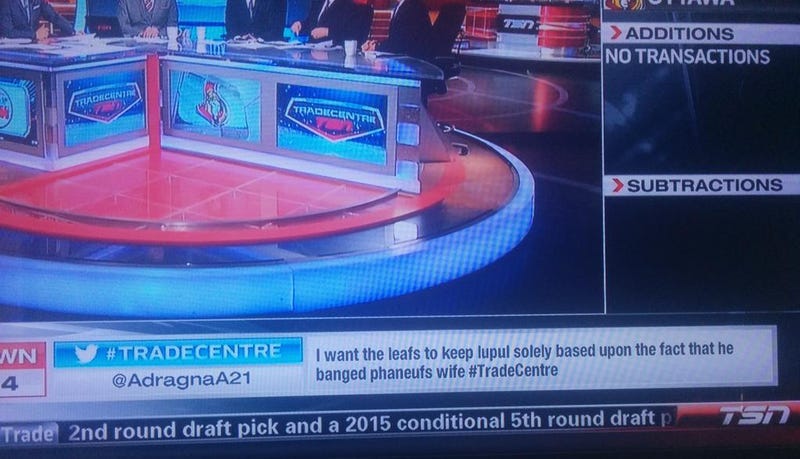 It has been a rough deadline day for TSN. Yesterday, Dustin Penner was pulled from his planned appearance for making some rape jokes on Twitter. Today, the network angered Maple Leafs winger Joffrey Lupul by airing a tweet implying he's sleeping with Elisha Cuthbert, wife of teammate Dion Phaneuf.
The Zbynek Michalek trade is finally official. The Blues get the veteran defenseman from Arizona in exchange for prospect Maxim Letunov, a young, offensive-minded center.
The first trade of deadline day proper sees Montreal getting defenseman Jeff Petry from Edmonton for a second-rounder and a conditional fifth. Which means the Habs might be the only ones who believe in their chances this season.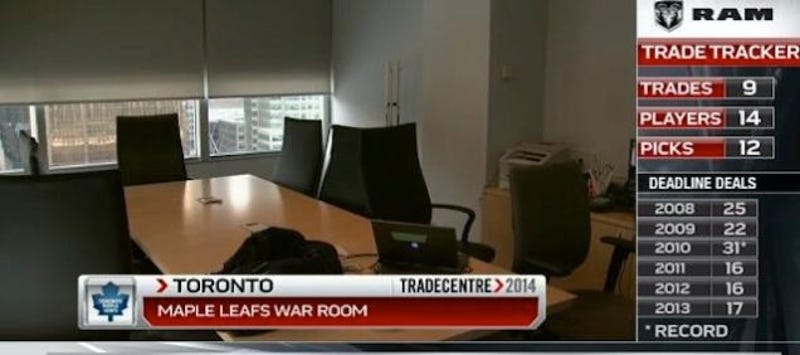 The NHL trade deadline is at 3 p.m. EST, and if not another deal gets done, it will have already been a satisfyingly busy trade window. But the fact that so many big names have already moved is a great sign for fans of deadline chaos: the buyers remaining are running out of sellers, so prices should be through the…
Andrew Lickenbrock has created this handy-dandy map to show movement in the days leading up to an especially goalie-heavy trade deadline. Eleven netminders were dealt—one of them, Jaroslav Halak, moved twice—and there were four separate goalie-for-goalie trades. A crazy few days for the NHL's weirdos.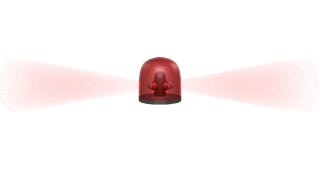 There's the closing bell, and we've broken out the all-caps and fired up the ol' siren gif. That can only mean one thing: the NHL's trade deadline has passed. Lots of smaller-but-significant moves made (trade trackers here, here, and here), but everyone wants to know: whither Rick Nash? We'll know in minutes.
The deadline is minutes away, but already the NHL has seen some major movement: Brad Richards to the Leafs, Marty Reasoner to the Canucks, Dustin Penner to the Canadiens...oh wait, none of those moves actually happened. They were all reported by fake Twitter accounts impersonating hockey writers, and promptly…