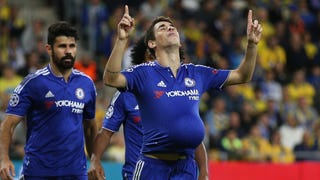 If all the mid-tier European-quality players the Chinese Super League has bought this transfer window haven't hammered home just how serious the league is about getting really good really fast, and if the purchase of potential top-end talents like Jackson Martínez and Alex Teixeira for gobs of money also failed to…
It was inevitable that Chelsea's astoundingly poor performances and results so far this season would lead to some level of internal strife inside the club. We now have confirmation of this, with sources in the team describing a rift between the players and José Mourinho to two different papers.
We knew what we were seeing last year when Jack Wilshere finished off that intricate Arsenal move, and we know what we saw today: the best team goal we're going to see in England this season.
Brazilian wunderkind Oscar is off to a fantastic start for Chelsea, leading the Blues with extraordinary goals in UEFA Champions League play. We featured one of them a few weeks ago, but we're also impressed with his goal today against Shakhtar Dontesk. Sure, keeper Andriy Pyatov is mostly to blame—his mistake let…
Chelsea won a massive bidding war for 21-year-old Brazilian star Oscar this summer, luring the midfielder away from Internacional for £25 million. It's proving to be a smart purchase, as his two early goals have put the Blues up 2-1 at the half on Juventus in their UEFA Champions League bout today at Stamford Bridge.…
Oscar's 111th-minute U20 World Cup winning strike was really something to see. Fast forward to 10:45. Rejoice in the magic. Then, watch the rest. Brazil 3, Portugal 2.