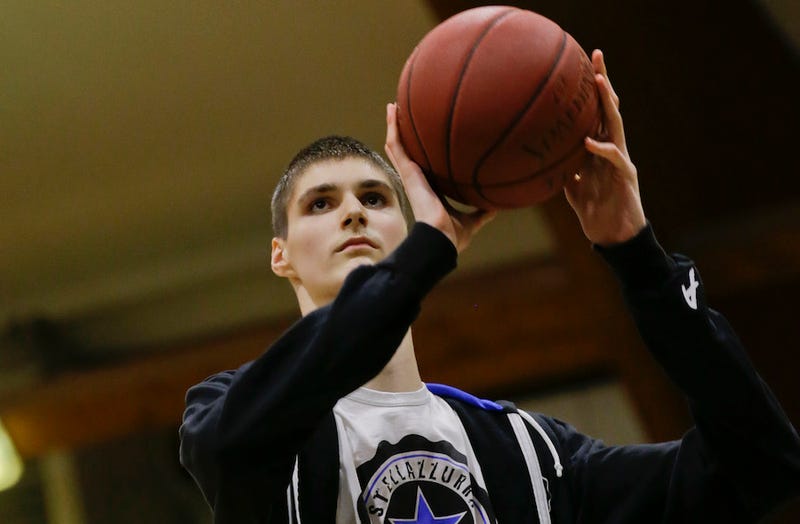 Robert Bobroczkyi is a 7-foot-6, 184-pound Romanian, and of course, he plays basketball. Bobroczkyi's only 15 years old, however, so he's being treated delicately as he stays at a hoops academy in Rome. Growing boys need their food, and since Bobroczkyi is a towering, growing boy, he needs even more food.
Picture, in your mind, a mundane interaction between any two regular, essentially happy Italian people. One purchasing a packet of chewing gum from the other, for example. Can you picture it? The screaming, the wild gesticulating, the red faces, the flashing whites of crazed eyes and bared teeth, the elaborate…
"A third of American adults say that they are trying to eliminate [gluten] from their diets," reports The New Yorker, in a long feature about our culture's weirdening relationship with this common protein composite. This is insane. Americans are insane.
Oh shit, dinner is still A Thing. It exists. Disaster. This is you, creeping incrementally homeward in the transportation gridlock of your locale and mode of transit, flop-sweaty and wild-eyed like John Lithgow on the airplane, doing a frantic mental inventory of the nigh-barren refrigerator waiting for you and…
A fight for control over Olive Garden's parent company, Darden Restaurants, has shed light on some of the Italianish restaurant chain's less-than-ideal kitchen practices. For example: Olive Garden kitchens do not salt their pasta water. For another example: Olive Garden kitchens exclusively prepare Olive Garden…
Would you get a load of that horror. I mean lean on in here and get a nice big load of it. That is a pair of tubs of pasta, dyed red and blue by Louisville's Skyline Chili locations as a... what? celebration? like hell! ...of the upcoming Louisville-Kentucky Sweet 16 matchup. Because Skyline Chili figures that if…
Groundhog meteorologists notwithstanding, seasons are shapeless, poorly defined things. To wit: Traditionally, in North America, the "winter" season is regarded as beginning at some point in the back half of December (the solstice) and extending into the back half of the following March (the equinox)—and yet,…
By now you're likely well aware that the word ragù—although perhaps most frequently encountered with its accent symbol flipped over, emblazoned across ten thousand jars of tomato products in your local supermarket—has its own non-commercial definition, other than "bad-tasting Italian-themed ketchup."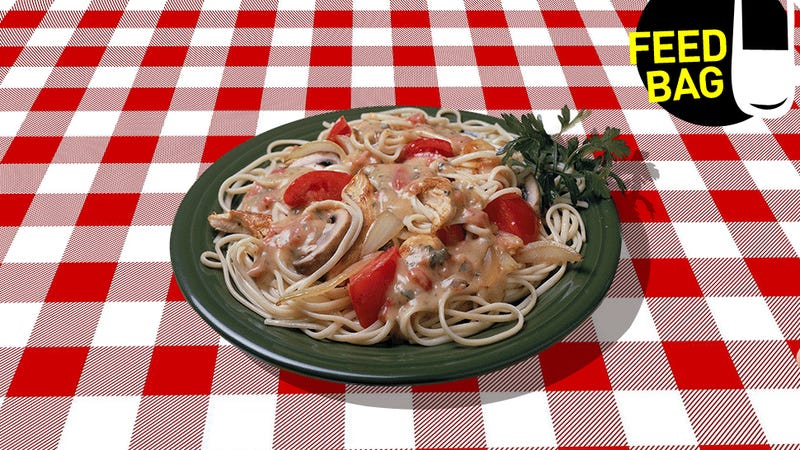 Welcome to the Feedbag, where all the dumb questions about food, drink, cooking, eating, and accidental finger removal you've been embarrassed to ask can finally receive the berating they goddamn deserve. Also: answers. Send all your even-vaguely-food-related questions to albertburneko@gmail.com with the subject…
Time was, as summer rounded into autumn, you kept an eye out for that first cool, dry weekend after the leaves started to turn, when the air remained genuinely chilly in the shade all day long, and then you tilted back your floppy coppola hat, hooked your thumbs into your suspenders, gazed thoughtfully into the…
So you've decided to end your life, or at least the segment of your life during which you could walk from here to there without your chest making sounds like a whirring blender full of silverware. Because that is the only conceivable reason why you would choose to make Alfredo sauce, which, scientifically speaking,…
Look. Wonderful as these foodstuffs are, it's not all pot roasts and chili and disturbingly alien holiday candies out there in the world of eating; nor should it be in your kitchen. Sometimes you're not looking to spend all day slow-cooking some large quantity of rich, meaty food to serve to a lot of people. Sometimes…