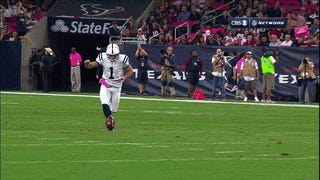 Who needs teammates? Who needs an opponent? Colts punter and general badass Pat McAfee doesn't. He can play all by himself.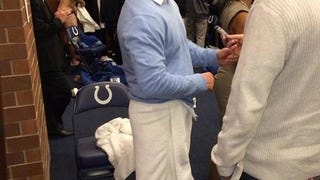 Colts punter Pat McAfee tweeted this picture out of the Indianapolis locker room following their insane comeback win over the Chiefs and but for an extremely well-placed man on a cellphone, we're probably all looking at Andrew Luck's johnce. But, that man on the cell-phone was placed, so Mcafee is spared Vanderjagt…
On Sunday night, Pat McAfee leveled Broncos return man Trindon Holliday. It earned him plaudits from kickers everywhere, and a "random" drug test. This week on the Indianapolis Star's "Pat McAfee Show," McAfee walked a live audience through the "the most athletic portion of my life."
It's still difficult to tell to what extent Manti Te'o was duped by Ronaiah Tuiasosopo and any co-conspirators, but if he did begin the relationship in good faith, he'd join at least one other athlete that has been taken in—if briefly—by online an suitors pretending to be someone she wasn't. It's a good group.
The latest "athlete does something impossible" viral video to make the rounds is Colts punter Pat McAfee nailing consecutive field goals from 65, 70 and 75 yards out. And despite that whole "impossible" thing, there are those who want to believe it's real, citing evidence like "McAfee said it's real" and "there's no…
Pat McAfee did his part to show the world that punters can party and do stupid things just as well as real football players. Or kickers, I suppose.