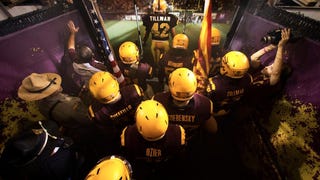 It's a damn shame that Pat Tillman, killed by friendly fire in an Afghanistan mountain pass, the truth of his death covered up by the Pentagon, tends to be used as a symbol for the exact opposite of what he should be remembered for. But if anyone's allowed to claim and exploit him, I suppose it'd be the Sun Devils.
The Huffington Post has Pat Tillman Sr.'s 2005 letter to Brigadier General Gary M. Jones, who was leading the investigation into the death of his son: "I assume, therefore, that you are part of this shameless bullshit." [Huffington Post]
Last Sunday, during another grueling loss for The Buzzsaw That Is The Arizona Cardinals, the halftime show at the University Of Phoenix Stadium intended to honor the late Pat Tillman, who was killed in Afghanistan in April 2004, with the retirement of his jersey on the stadium's Ring Of Honor. A special video was…
Though we grew up thinking he was the the best sportswriter on the planet — and one of our favorite journalists anywhere — we'll confess souring somewhat on Sports Illustrated scribe Gary Smith in recent years. His writing was still top-notch, but it was beginning to become repetitive. He'd either write about a major…
The family of slain soldier Pat Tillman — whose jersey we have owned for six years — are simultanously making more headway on getting answers about the death of their son and getting farther away. They reviewed the military papers and found "countless" names and information blacked out.