The only value in the Steve Simmons column that everyone's talking about this morning is the news that Phil Kessel eats a street hot dog every damn day. Personally, I think that's funny and humanizing. Toronto's troll-columnist-in-chief uses it as a fat joke, and exhibit A in the case for Kessel being run out of town.
Here's a thing, by Cathal Kelly and about Phil Kessel and the importance of being nice to reporters, that a lot of people are talking about. You're a smart sports fan. I bet you have an opinion, too!
Ron Wilson, a former Maple Leafs head coach replaced by Randy Carlyle—who was just fired today—went on the radio to call out Phil Kessel for being difficult to coach. A reporter later relayed this to Kessel. Kessel got angry.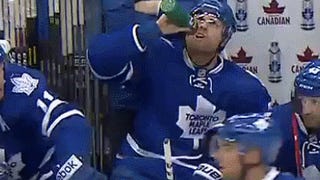 It was that kind of night for the Leafs, one that started with James Reimer giving up a goal on the first shot he faced, saw a scary injury to Paul Ranger, Kessel's inability to properly hydrate, and ended 5-3 Lightning, more fodder for the Reimer discussion.