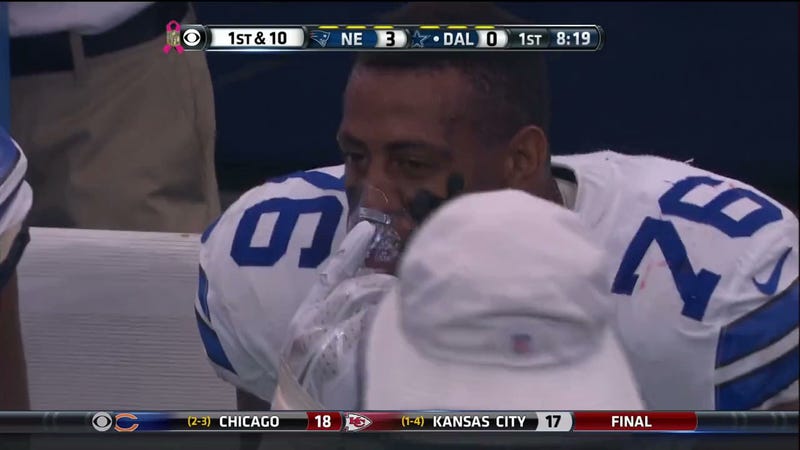 CBS broadcasters Jim Nantz and Phil Simms had a very telling debate about Greg Hardy during the first half of today's game between the Cowboys and Patriots. This was Hardy's first game back since his suspension following accusations he violently beat up his then-girlfriend and threw her on a pile of firearms. (The…
Time for your weekly edition of the Deadspin Funbag. Got something on your mind? Email the Funbag. Today, we're covering your friend's sex tapes, chemo poops, spider lungs and more.
"This guy." "The National Football League." Sportscasters have their own pet phrases, most of which add nothing to the conversation. They're meaningless syllables to fill up airtime, nervous tics that we're used to ignoring, but once you notice them you can't hear anything else. Take Phil Simms, who loves to say…
Phil Simms released this workout video in 1987, the year he was named Super Bowl MVP. It has lots of Lycra, big hair, and some help from pros Todd Christensen, Eric Dickerson, Tony Dorsett, Phil McConkey, Reggie Williams, Gary Anderson, and Rulon Jones. If by chance you still own a VHS player, you can get this on…
Matt Simms and Nate Montana are playing football at tiny community colleges instead of D-I powerhouses. Weird, right? I mean, they've got blond hair and famous last names. What else do you need to play quarterback? [LA Times]
Got an image you'd like to see in here first thing in the morning? Send it to tips@deadspin.com. Subject: Morning crap
So here's a show we would watch: It turns out that the GEICO Caveman commercials are getting their own television show. We have no problem with this idea; we find the Caveman skits hilarious, particularly the one where he's on the cable news show.
One of our favorite ongoing gags at Out Sports is the running tab of homoerotic comments made by CBS analyst Phil Simms during his telecasts. Favorites from the past include "[Miami running back] Lamar Smith doesn't look like much in his underwear" and his constant references to Dan Marino as "a handsome man." Well,…
Notoriously overmuscled NFL referee Ed Hochuli has long been a popular figure with the gay sports fan community, thanks to his cartoonishly large biceps. (Apparently, gays aren't the only fans; witness this hilarious roundup of homoerotic comments by CBS analyst Phil Simms, including some drooling ones about Hochuli.)