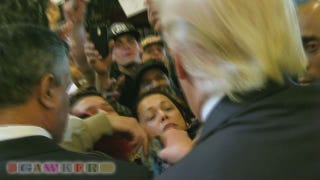 What is up, generations of bemused and confused observers have asked, with Donald Trump's hair? The television clown and serially bankrupt business mogul sports a peculiar, swirling spun-sugar-colored confection on top of his head. It is clearly an elaborate work of artifice, designed to confound the eye.
Derek Sanderson was the prototypical '70s athlete. A Calder winner with Boston, the Turk was everything you'd want in a celebrity—he got into fights on and off the ice, he hung with the rich and famous, he womanized, he abused drugs and alcohol, he fled the NHL for the then-richest contract in professional sports…
Tipster Jack M. says watching 13 seconds of Justin Tuck pushing his baby in a carriage toward Mike Francesa and Tom Coughlin while in full uniform "could be one of the oddest things I've ever seen." Tipster Jack M. probably hasn't seen Michel Lotito in action.