Renaud Lavillenie entered tonight's pole vault final as the reigning Olympic champion and world record holder. He finished it as a silver medalist, thanks to Brazilian Thiago da Silva setting a new Olympic record of 6.03m in a wild night that featured a lengthy rain delay and malfunctioning equipment.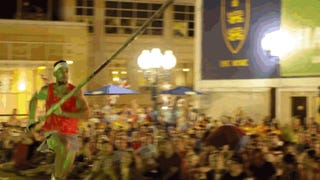 In a mall, on the street, with a train, up twenty feet... Sam I am. The recent rash of wacky vault venues inspired Seuss-ism, and more successfully, a class in how to catapult one's* body over an 18-foot high bar.
As creative types seek to both participate in a nationwide movement and distinguish themselves from the herd, some very distinct videos of the ALS Ice Bucket Challenge emerge. Behold, the University of Arkansas women's pole vaulters getting their ice water on with an athletic twist.
South Pasadena High pole vaulter Robin Laird thought she won a league championship last month when her final vault clinched the meet. Then the opposing coach helpfully pointed out that she was wearing a string around her wrist. Clutch!
Here is German pole vaulter Balian Buschbaum, who used to be Yvonne Buschbaum. Through the miracle of medical science, she is now a he, although his competitive pole vaulting days are now over. That's because the testosterone treatments required for the sex change made him ineligible to compete. Not only is Buschbaum…
Once again, University of California pole vaulter Allison Stokke is being hunted by the wandering trolls of the internet, thanks to the emergence of new photos featuring the athletic teenager wearing her required sporting uniform and holding a giant pole .Her dad, the chronically annoyed and litigious Allan Stokke, is…
In England, prison officials are teaching inmates how to pole vault. I see absolutely no way this can end bady. [Daily Express, via SportsbyBrooks]